Are you thinking about improving your outdoor space with a new deck? If so, you've probably heard about composite decking and may wonder if it's the right choice for you. Is it really worth the extra cost?
If you've ever maintained a wooden deck, it should be clear why more and more people are choosing Trex composite decking for their outdoor living spaces. The yearly upkeep of a traditional wood deck is no joke!
When it comes to practicality and durability, composite decking is hard to beat. Its many benefits, which we will explore today, make it an excellent option for most homeowners.
#1 Durability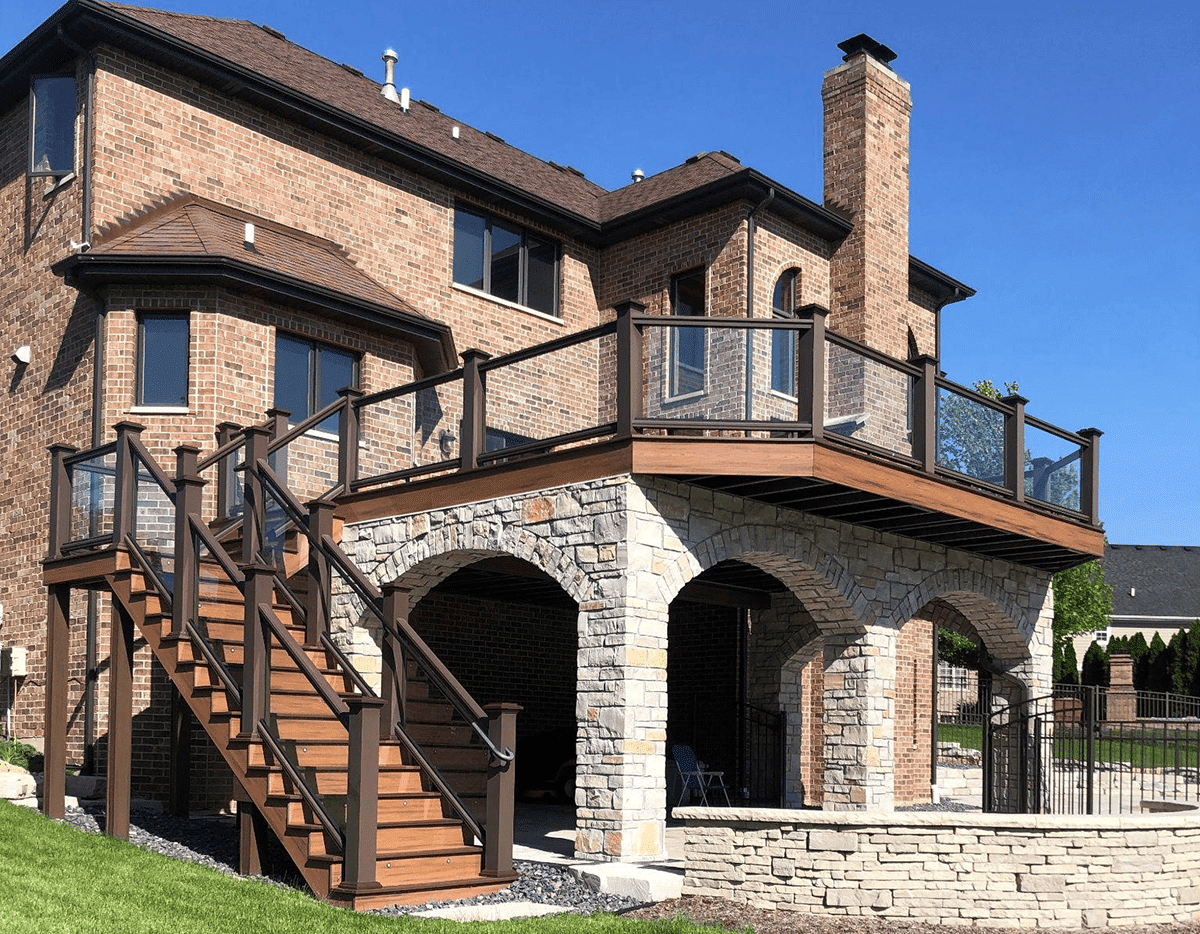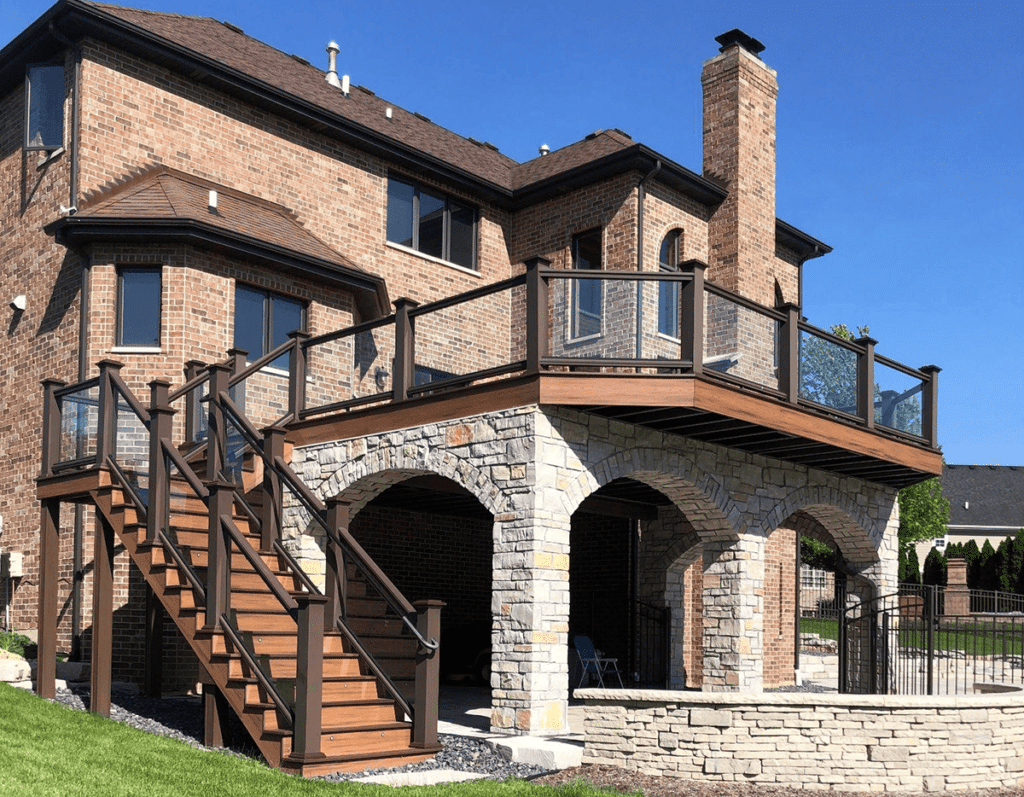 With a wooden deck, many different problems can arise, like insects or rot. You'll need to protect the wood by sealing or staining it regularly, cleaning it properly, and not allowing moisture to cause damage. And even after your best efforts, the water will eventually find its way through, and repairs or replacements will be inevitable sooner than you would like.
Composite decking lasts much longer than wood because it is made of 90%+ PVC, a synthetic material that is highly resistant to decay. Termites and bacteria love wood but have no appetite for PVC. (And that's great news for us!)
As a result, your composite decking won't rot, splinter, or become infested with insects over time, as traditional wooden decks will. So be prepared to enjoy your composite deck for decades rather than years!
#2 Easy to Clean & Maintain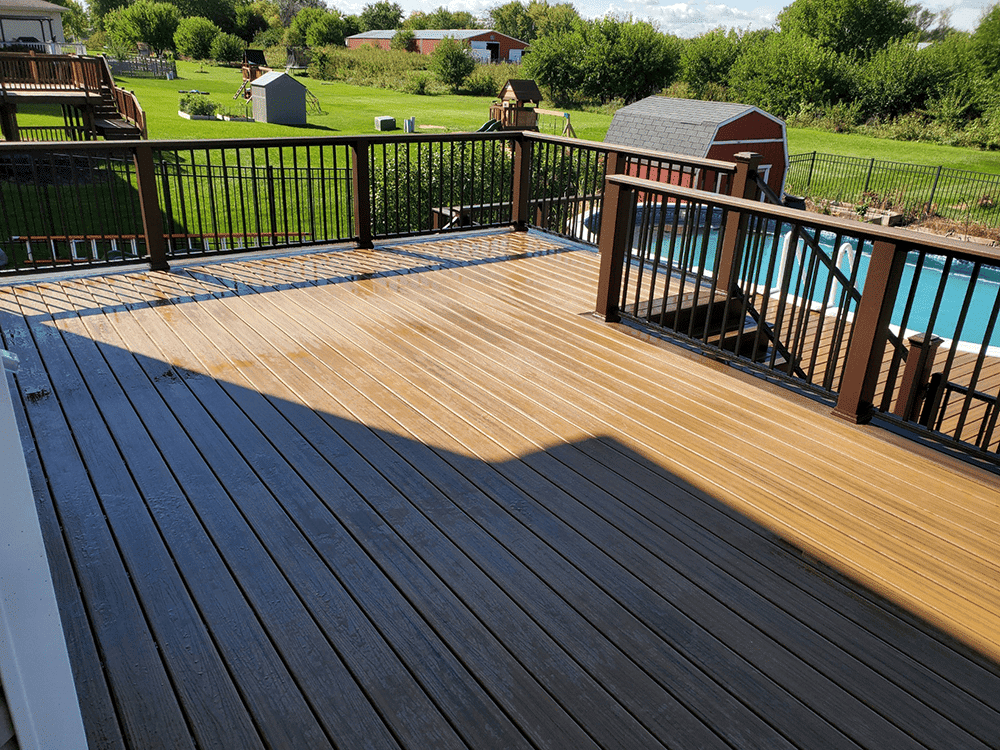 Your deck should serve you, not the other way around. Unfortunately, a wooden deck can feel like a never-ending commitment to upkeep. The more you sand, stain, and seal it, the more your deck shows its years. And after 10-15 years, it will be time for a replacement or major repairs.
Not only do composite decks last longer (25+ years), but they also require less upkeep. Repairs are minimal, so it's painless to keep your deck in good condition and looking fantastic.
Cleaning is easy; sweep off any dirt or debris, spray it down with a hose, and then mop up any additional water.
When you think about it, the whole point of adding a deck to your outdoor space is enjoying it, and a composite deck makes this much easier!
#3 Cost-Effective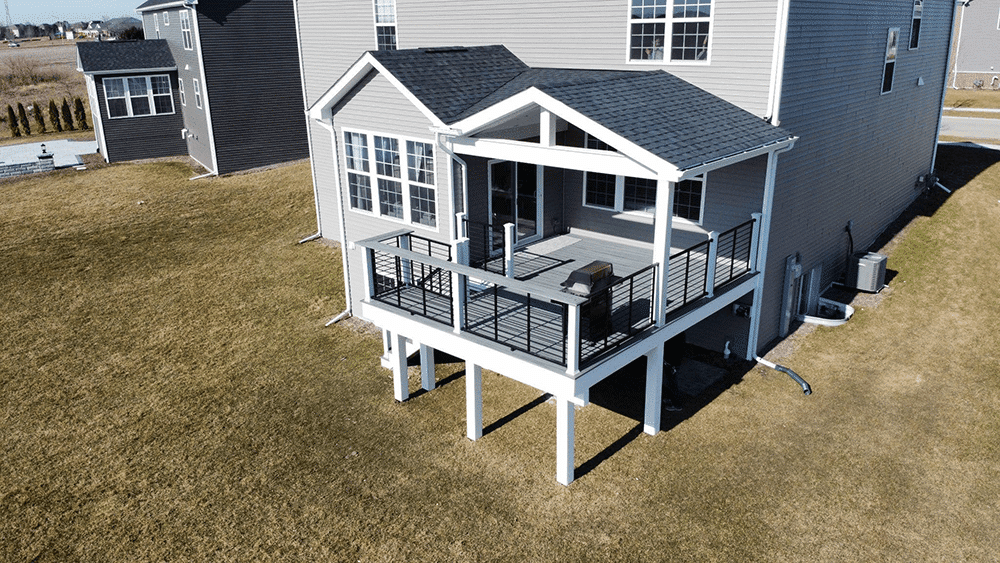 Wooden decks require a lot of upkeep, which adds to the overall cost over time. Sealing, painting, or staining your deck every few years can add up quickly. And when repairs and replacements become necessary, be prepared for extra costs to keep your deck in good condition.
Composite decking is a more cost-effective option: maintenance is cheap in the long run, as you don't need to sand, stain, or seal it. Plus, your deck will last much longer before needing repairs. It's an obvious choice to save time and money in the long run.
#4 Versatility & Customization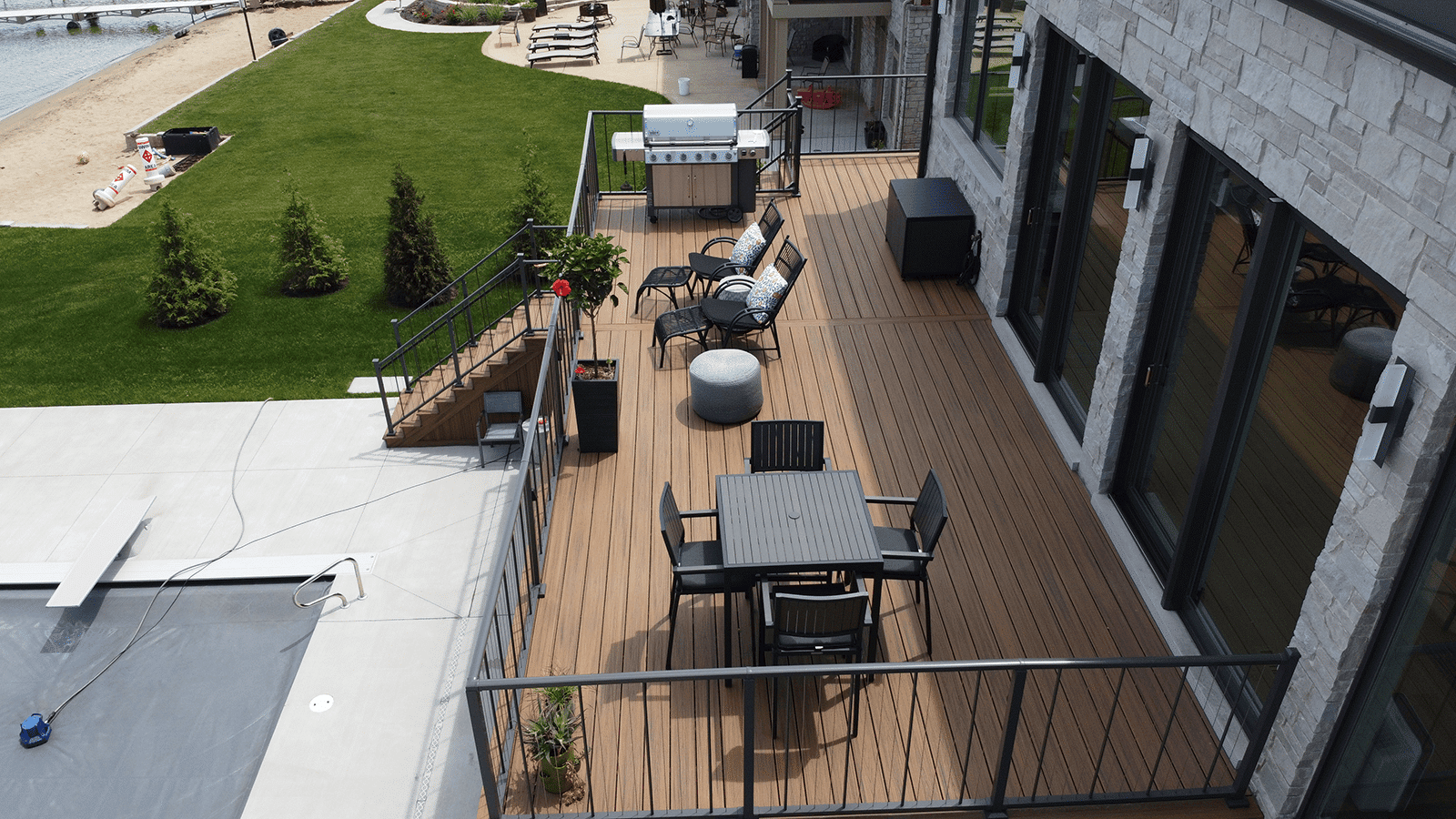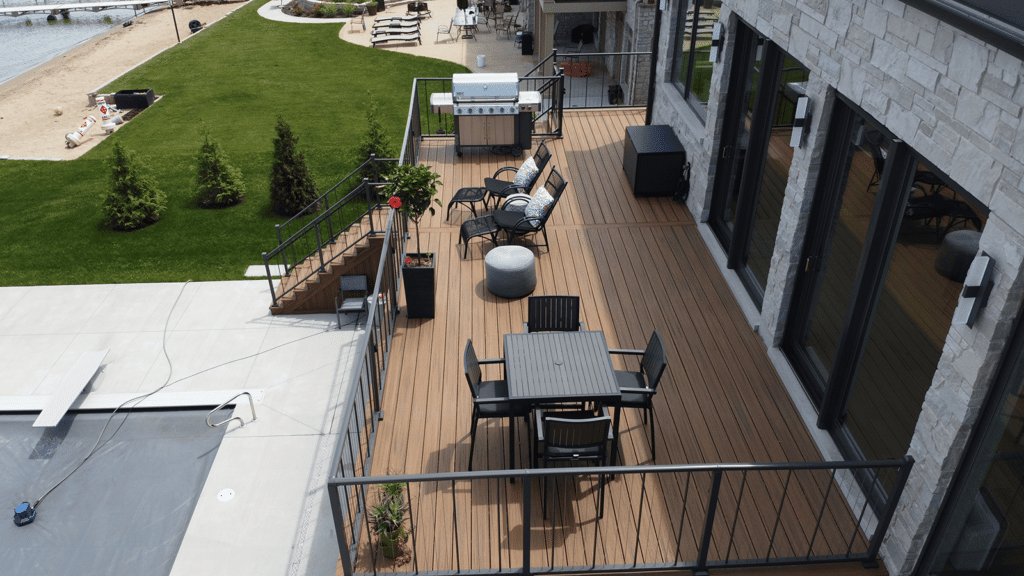 So, what customization options does wood give you? Pressure-treated lumber is the most commonly used for decks, and cedar and pine are popular options. You can also choose other woods, like western red cedar or tropical hardwood, but they are more expensive. Even if all these options are within your budget, you're still, to some extent, limited to a particular style.
To change the color of the wood decking, you can either paint or stain it. Painting it will hide the grain pattern and texture while staining it will keep the grain pattern but limit the range of colors you can use. Both options have drawbacks.
Composite decking, on the other hand, gives you much more freedom in design. Thanks to the countless options available, it's possible to create outdoor living spaces that perfectly match their surroundings. You can customize colors and grain patterns to create a unique look that matches your home and landscape. Plus, you won't need to paint and stain every few years to maintain the deck's appearance.
#5 Adds More Value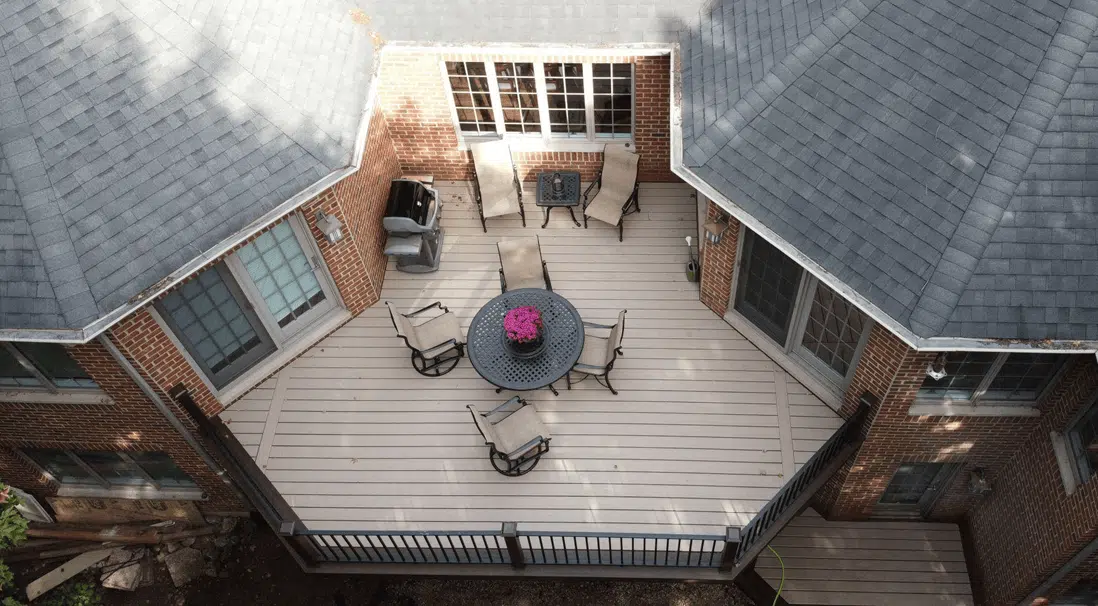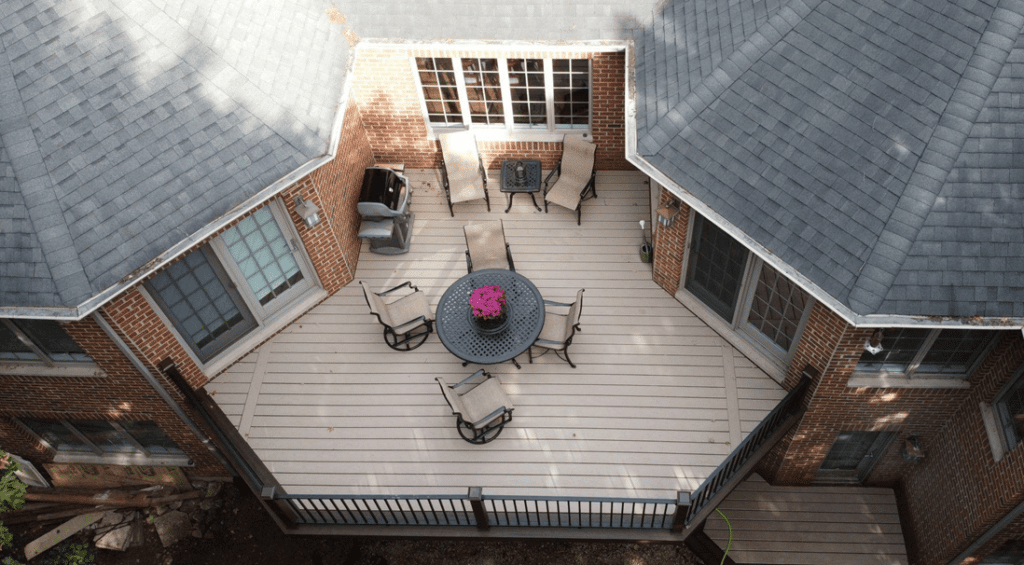 A composite deck is an excellent choice if you want to add value to your home.
A wooden deck is not always seen as a wise long-term investment by those looking to buy. It can be seen by some as a liability, as it will require maintenance and repairs.
On the other hand, A composite deck is an investment that will not require constant upkeep, Many buyers will appreciate that, and they'll see your home with more peace of mind.
#6 No Harsh Chemicals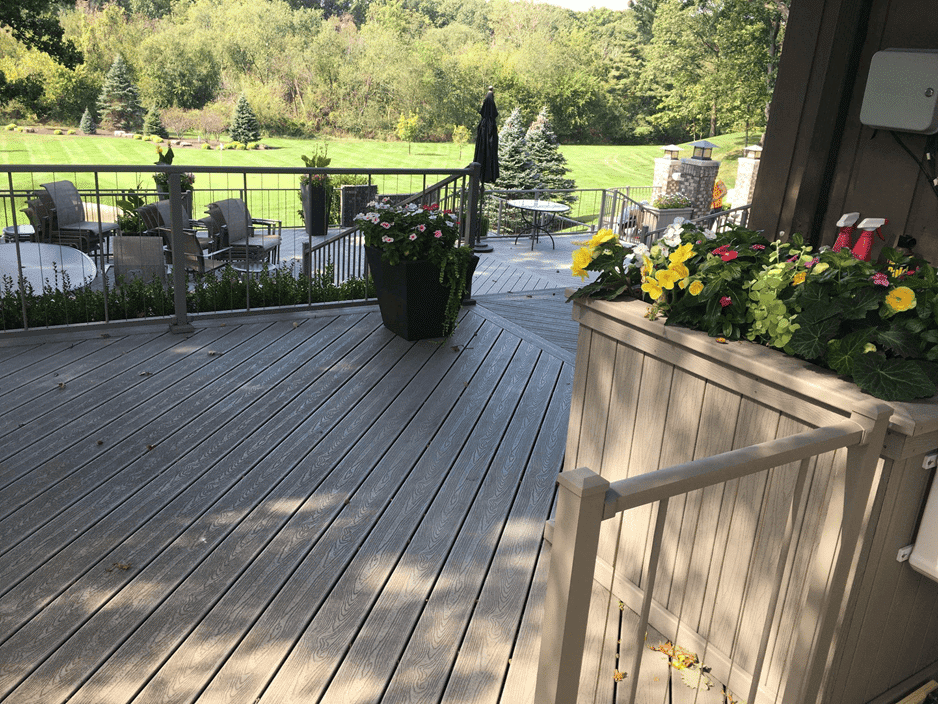 Wood is commonly treated to increase its durability. For example, pressure-treated lumber, widely used for wood decks, is treated with a chemical preservative and sealed against moisture. You also need to apply sealants and stains periodically. In addition, you may need to use harsh cleaners for any mold or mildew that may appear.
Composite decking is not made of organic materials and doesn't require harsh chemicals to stand up to the elements, eliminating any risk of exposure. So it's a safer choice!
Conclusion
Composite decking is excellent if you want a durable, low-maintenance decking solution. It offers a range of benefits, from durability to cost-effectiveness and looks. The result is a more functional, practical, and enjoyable deck. Although there is a place for wood decks, composite decking is the better choice to get the most out of your money and time.
Looking to add a patio to your home? Learn about the different types of patio materials in our article, "The Pros and Cons of Popular Patio Materials."