Custom Outdoor Kitchens in Chicago's Suburbs
When it comes to enhancing your outdoor space, nothing can be more rewarding than having a custom-built outdoor kitchen in your backyard. At Mitchell Construction, we specialize in installing outdoor kitchens in Chicago's suburbs, transforming ordinary yards into extraordinary outdoor living spaces. Discover the benefits of including an outdoor kitchen in your project!
Why Invest in an Outdoor Kitchen?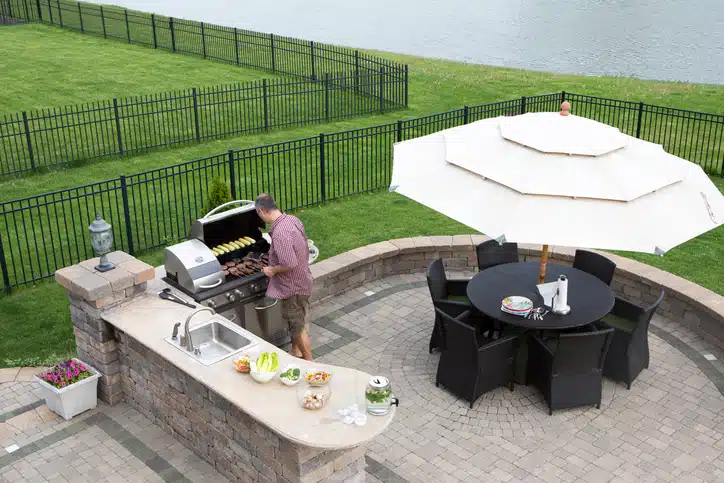 An outdoor kitchen isn't just a place to cook outdoors; it's a lifestyle change that significantly improves your outdoor living experience. Here are some reasons why investing in an outdoor kitchen is a wise decision.
Spend More Time Outdoors
Adding an outdoor kitchen to your home allows you to enjoy the great outdoors more frequently. It's a great way to soak up the sun, breathe in fresh air, and enjoy nature's beauty as you go about your day. 
Elevate Your Entertainment Game
An outdoor kitchen is an entertainment hub where you can host memorable gatherings with family and friends. There's something magical about cooking in the open air that makes the food taste even better. 
Seamless Hosting Experience
Having everything at your fingertips in the outdoor kitchen means you can prepare, cook, and serve without missing a beat. This ensures you're always present, making your hosting duties smoother and more enjoyable for you and your guests.
How Mitchell Construction Ensures The Perfect Outdoor Kitchen Design
At Mitchell Construction, we go the extra mile to ensure your outdoor kitchen design perfectly complements your home and lifestyle. 
Every family is unique, and so is every backyard. Understanding this, we approach each project with a creative spirit and enthusiasm to deliver a unique design that meets your specific needs.
Imagine an outdoor kitchen that feels like a natural continuation of your home, where every countertop and appliance feels like it was always meant to be there. That's our goal. We ensure that your new space feels like a natural extension of your home, harmoniously blending with its surroundings and using space efficiently.
But our commitment goes beyond the design. Quality construction, using the highest-grade materials, is a top priority for us. We employ best construction practices that ensure durability and longevity, meaning that your outdoor kitchen will be built to last, weathering the elements and everyday use for years to come.
Customize Your Outdoor Kitchen
Whether you fancy a pizza oven, built-in grills, or a custom bar area, we offer a wide range of customization options to make your outdoor kitchen truly your own.
Appliances
From grills to fridges, we offer a range of high-quality outdoor kitchen appliances that are made to withstand the elements.
Countertops & Cabinetry
Choose from various materials and designs for your outdoor kitchen cabinets and countertops. Whether you prefer the natural look of stone or the modern appeal of stainless steel, we have something to suit every style.
Lighting & Heating
We can incorporate outdoor lighting and heating solutions to create the perfect atmosphere and ensure your outdoor kitchen is usable all year round. 
Shade Structures & Patio Covers
Our durable shade structures protect your kitchen and dining area from the elements.
Ready to Create Your Dream Outdoor Kitchen?
Transform your backyard into a culinary paradise with Mitchell Construction, your trusted outdoor kitchen contractor in Chicago's Suburbs. We're committed to delivering an outstanding service that exceeds your expectations and an outdoor kitchen you can be proud of.
Take the first step towards creating your dream outdoor kitchen today. Call Us or Request an estimate on your project to get started!