Trex Deck Lighting Installers In Chicago's Suburbs
Illuminate your backyard with professionally installed outdoor deck lighting by Mitchell Construction. As seasoned deck builders serving Chicago's suburbs since 1978, we have perfected the art of lighting up a deck. Let us show you how the strategic use of deck lighting can reinvent your outdoor area and set the stage for memorable evenings.
Why Include Deck Lighting?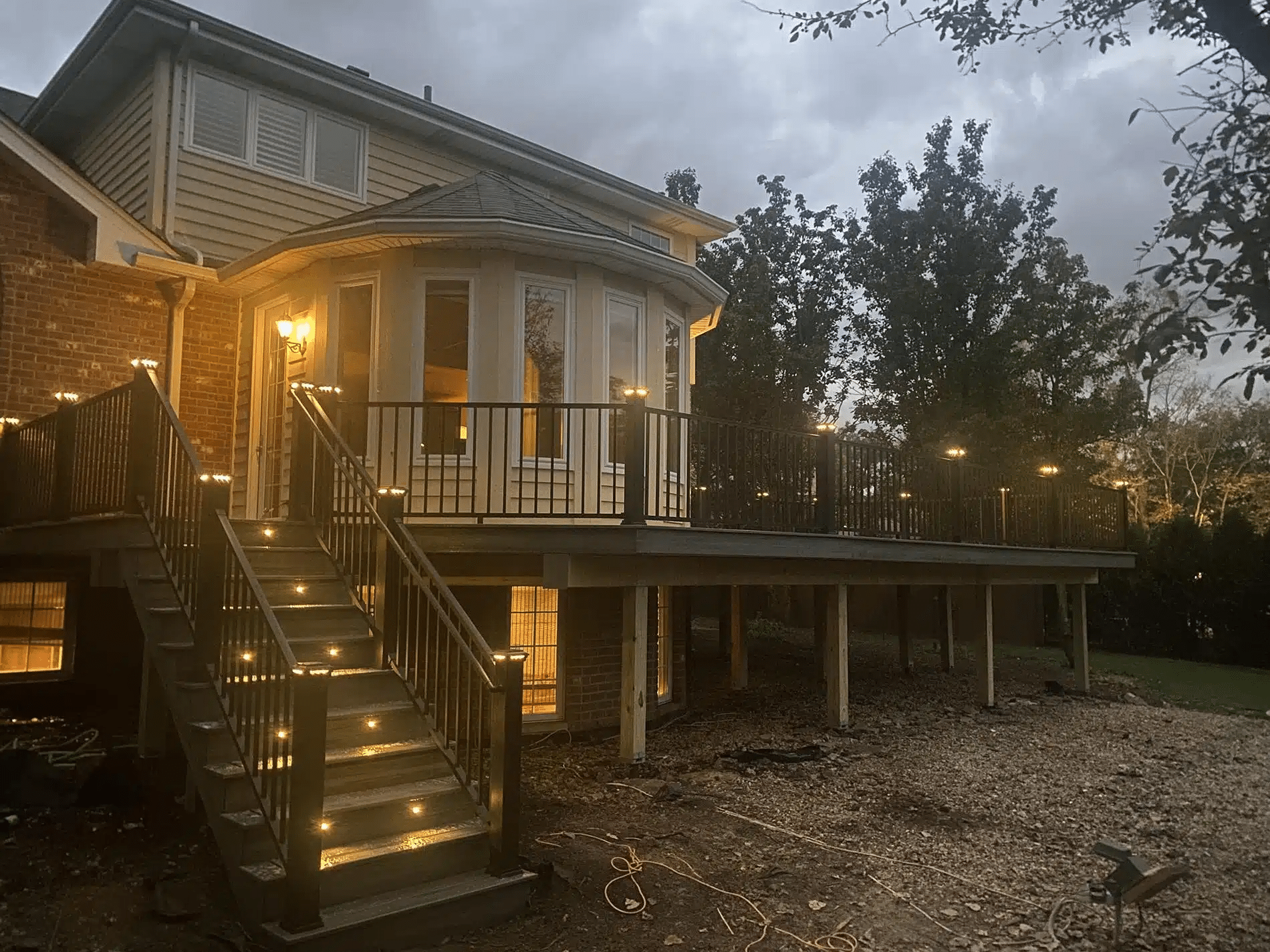 Creating the right ambiance in your outdoor space is crucial for maximizing its potential. The right lighting can set the mood, evoke positive emotions, and create a more welcoming and relaxing atmosphere.
However, deck lighting is more than a charming visual addition to your outdoor living space; it provides several practical benefits as well.
With the proper deck lighting, you and your family will be able to comfortably use your deck well into the night, enjoying extended hours of outdoor leisure activities. The illumination also ensures safety, reducing the risk of accidents such as trips and falls around steps and boundaries. 
Additionally, adding deck lighting can enhance the value of your home. By showcasing the beauty of your deck and landscaping at night, your property gains curb appeal, making it more appealing if you ever decide to sell.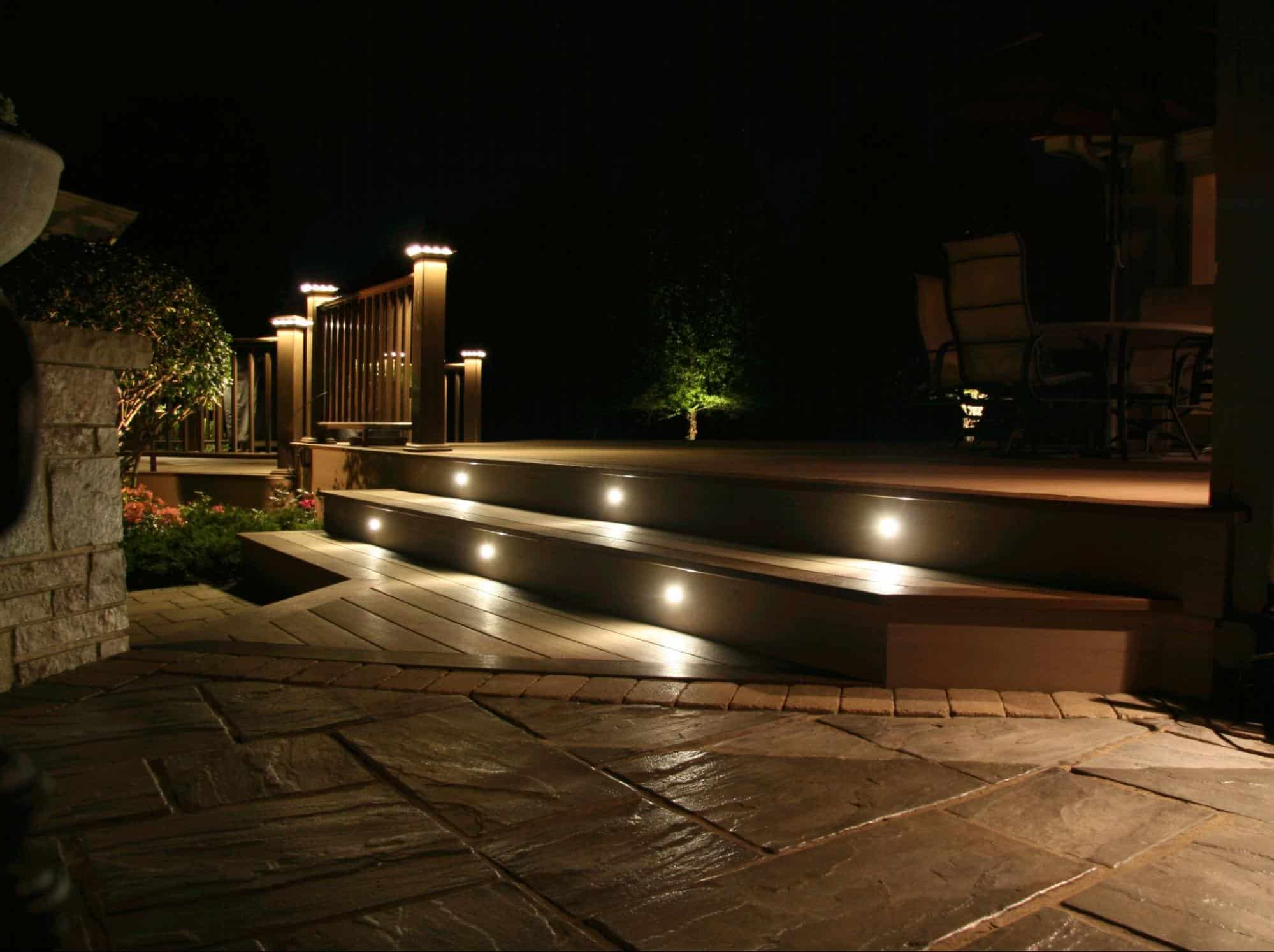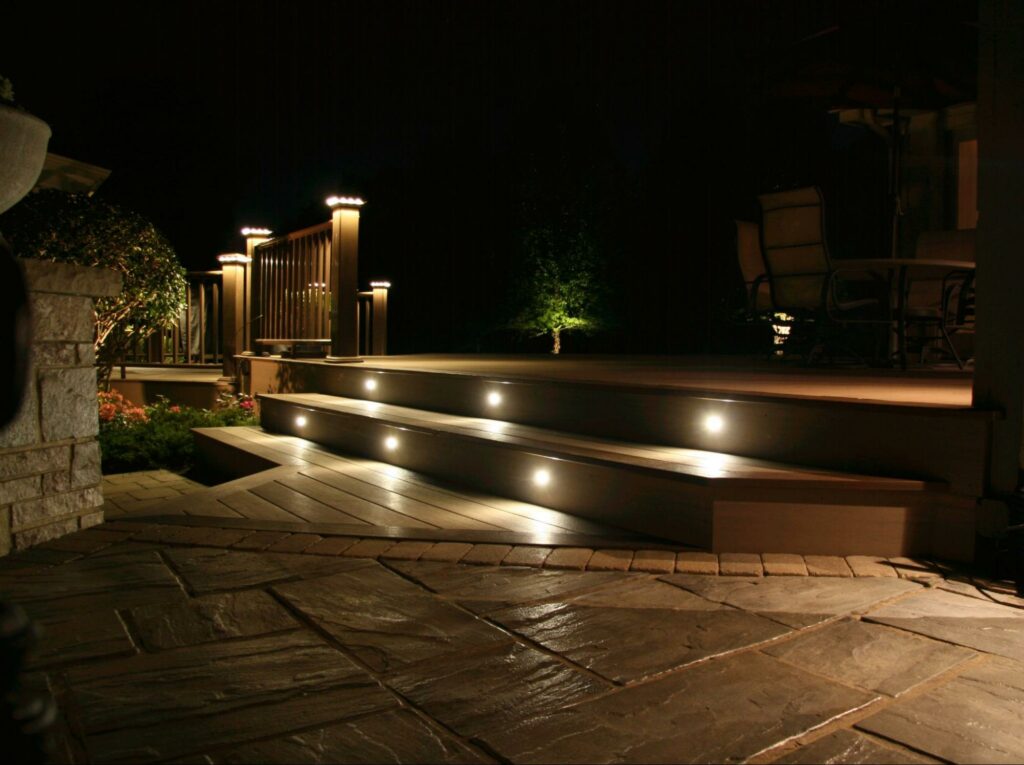 Choosing the perfect lighting for your deck requires thoughtful consideration, as it depends on factors such as the style of your home, your desired ambiance for the outdoor space, and how you plan to utilize the area. At Mitchell Construction, we offer a wide range of deck lighting options to match every preference and requirement. 
Step Lights:

Integrated discreetly into your deck's steps, these lights provide a necessary safety feature and give your deck a sophisticated look.

Post Cap Lights:

These deck railing lights subtly fit onto the tops of your deck posts, providing an enchanting glow that adds beauty and enhances security.   

Post Mount Lights:

Installed on the sides of posts, these add a touch of elegance while brightening your deck's perimeter.

Recessed Lights: These are installed directly into the Trex decking itself, providing illumination and a clean, modern design. 
Landscape Lighting:

These lights create a dramatic effect by casting beautiful shadows around your deck and illuminating the surrounding landscape. 
Read our blog, 5 Deck Lighting Ideas to Make Your Outdoor Space Shine, for inspiration and to learn more about our offerings.
How Mitchell Construction Creates The Perfect Atmosphere For Your Deck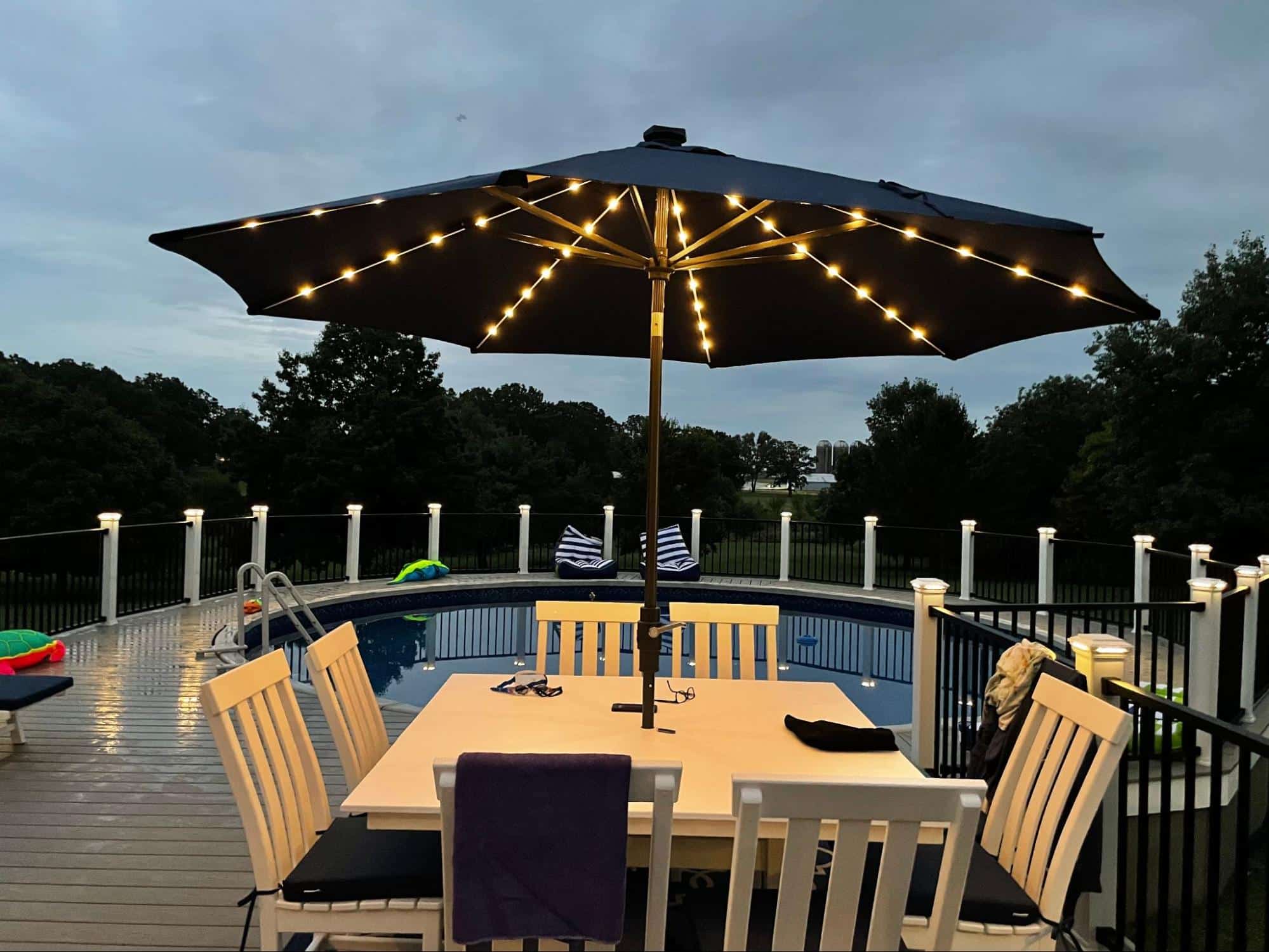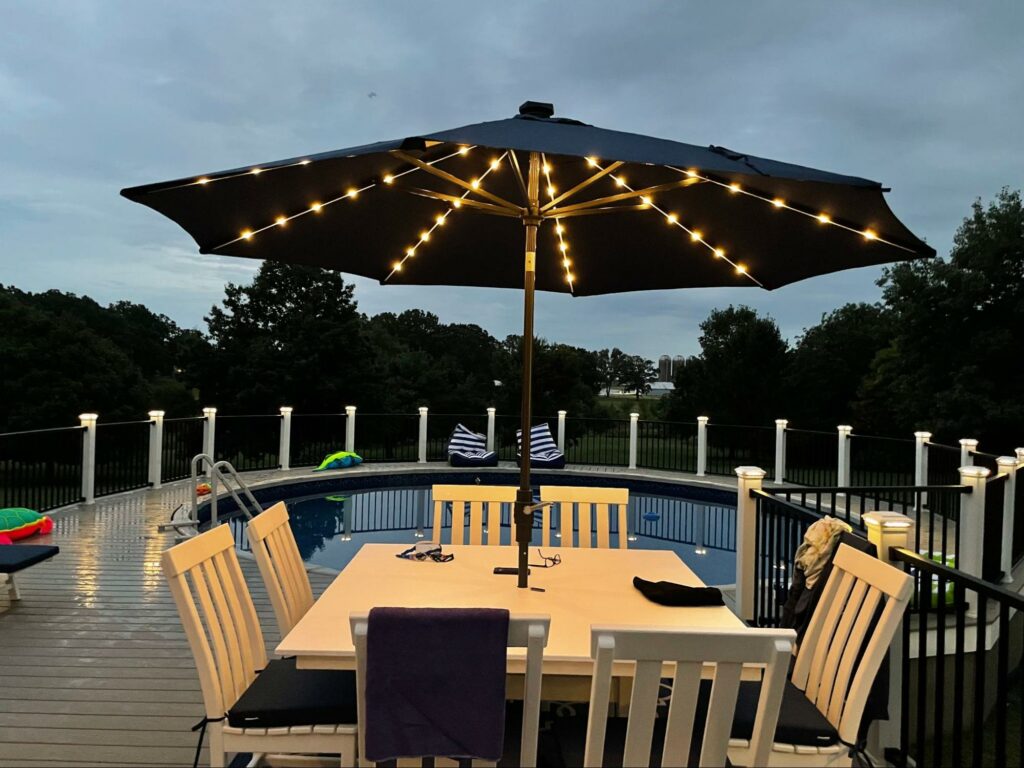 Dreams matter to us at Mitchell Construction. Our goal is to connect with you on a personal level, clearly understanding how you envision your deck being utilized. Every light we install, and every board we lay, is meticulously done with your dream deck in mind.
It's more than just a matter of installing lights; we take it a step further. We strategically position each light for maximum impact and aesthetic value. We formulate a distinct lighting plan unique to your space, designed to accentuate the best features of your deck.
Our goal is to ensure that your outdoor space is attractive during the day and magical during the night. By using Trex, a trusted name in composite decking and lighting products, we guarantee that your deck breathes elegance around the clock.
Our decades of experience have led us to a deep understanding of the impact of well-placed lights. We select the types of lighting that will truly bring your deck and landscape to life. The result is a captivating space, perfect for hosting gatherings or relaxing with your loved ones.
Leave Your Dream Deck to Us - Get Started Today!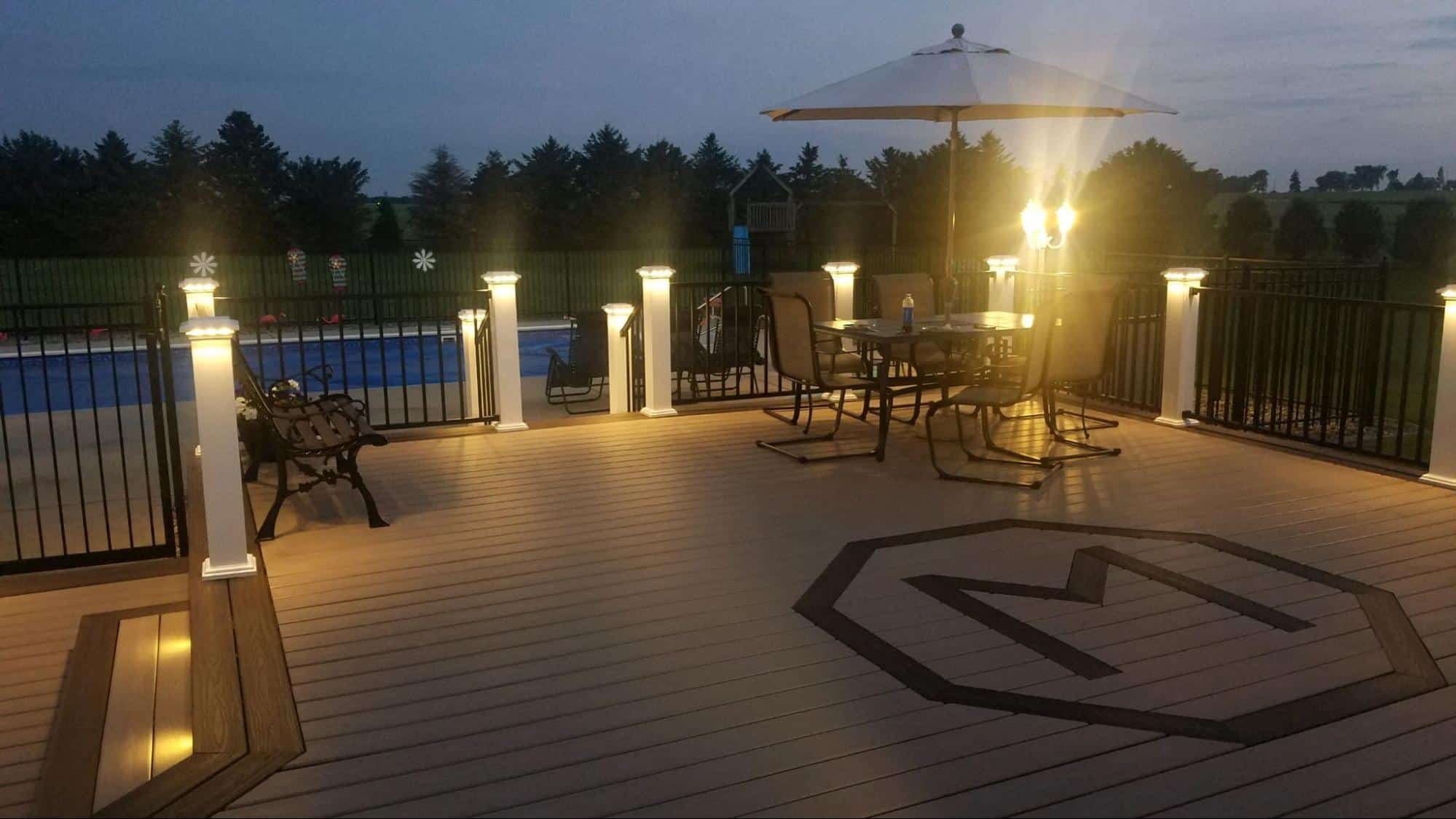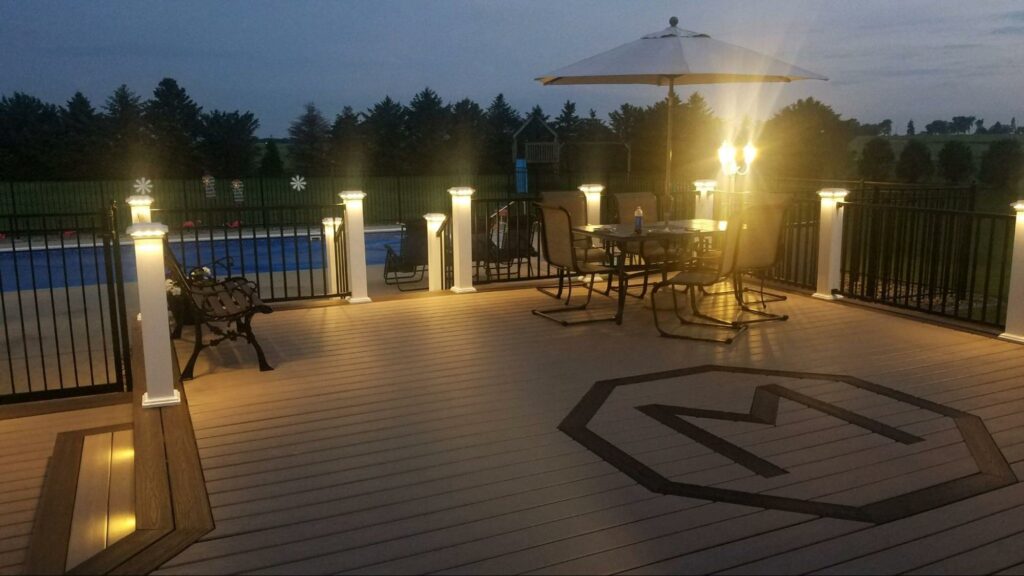 When it comes to creating outdoor decks that resonate with our client's dreams and lifestyles, Mitchell Construction leaves no stone unturned. When building or remodeling your deck, our team can create an inviting atmosphere that lets you enjoy your deck to its fullest potential, no matter the time of day.
Take your outdoor living experience to the next level. Request an estimate today to get started! Your dream deck awaits!