TREX Composite Deck Builders
Experts at delivering relaxation, not extra work.
Trusted Chicagoland Trex Platinum builder
Mitchell Construction is a licensed, bonded, and insured Trex composite deck builder. We are family-owned and operated, and have been serving the Chicagoland area since 1978. Our team of expert carpenters offers the experience, knowledge, and customer service to make your dreams come true.
Our crew has completed the advanced product and installation training required to become a TrexPRO Platinum builder. That means we've earned the highest level of recognition available, and have demonstrated our ability to design and build outdoor living projects using Trex deck products. TrexPro Platinum composite deck builders are experts in Trex products, and we have the skills and talent to plan and build virtually any outdoor space, from simple decks to intricate custom designs.
Advantages of Trex Composite Decking
One of the greatest benefits of Trex high performance deck boards is its durability. It resists fading, is insect-proof, and splinter-free. Composite decking is also low maintenance: there's no need to worry about sanding, staining, or painting. Plus, you'll enjoy the look and feel of natural wood with the reassurance that you're using sustainable products. Your Trex composite deck builder can deliver results that are:
Eco-Friendly: Made from reclaimed scraps and recycled plastic.
Durable: Won't rot, split, crack, scratch, warp, or mold.
Pest-Free: No termites or any other insects.
Fade-Resistant: And available in a wide range of colors.
Low-Maintenance: Enjoy the look of natural wood with none of the work.
Trex Composite Decking: Best Wood Alternative
Natural wood decking needs a lot of work to look good and last for many years. Along with regular painting, staining, or sealing, natural wood is prone to rotting, splitting, and splintering, which can be hazardous to you and your family and require extra time and expense to repair. Plus, if insects such as termites get a hold of a natural wood deck, extensive structural damage can spell the end of your deck. Choosing a wood deck is far from the relaxing experience you deserve from your outdoor spaces. In contrast, Trex composite decking is hassle-free and ready whenever you want to use it. A quick spring cleaning is all you'll need once the weather warms up for the season. Composite decking is guaranteed to look great for 25 years—with virtually no maintenance other than a bit of soap and water. Plus, Trex composite decking is good for the Earth as it's made from 95% recycled materials. In fact, Trex saves 400 million pounds of plastic and wood from landfills every year. When you want quality and durability with the look and feel of natural wood, choose a Trex composite deck builder.
PVC is No Match for Trex Composite Decking!
PVC is a low-maintenance decking alternative to pressure treated wood with plenty of benefits. It's resistant to rot, termites, and mold and does not require regular reapplying of stain or paint. If you're considering PVC, there are a few drawbacks to consider, including:
Chalking. As the outer layer of PVC starts to degrade, the breakdown of materials can leave behind an unsightly white, powdery residue.
Vulnerable. PVC decking is more likely to shrink or expand due to temperature fluctuations when compared to composite.
Fading. PVC is resistant to fading, but the use of rubber mats or even sunscreen and insect repellant can cause fading and staining.
Fussy. Most manufacturers recommend special cleaning products to maintain the look of PVC decking over time.
Plus, PVC decking is made only from synthetic materials, and generally from brand-new materials. PVC can be recycled once it's used, but composite decking makes use of discarded materials that would otherwise end up in the landfill. If you're looking for truly maintenance-free decking installed, that will look good for decades, it's time to call a Trex composite deck builder.
TREX Rain Escape Drainage System
If you're constructing or rebuilding a second-story deck, double your outdoor living space with an under-deck drainage system. TREX RainEscape deck drainage system delivers a dry, sheltered area below while providing extra protection for your new deck.
An over-the-joist drainage system like Trex RainEscape is designed to provide complete moisture protection for all the joists and beams, shield galvanized metal and wood from the elements, and hold screws in place longer.
Underneath the deck, you'll enjoy a dry and protected area provided by the cover of the deck and the drainage system to keep it dry, doubling your outdoor living area.
Choose from a variety of finishing options to make the lower space more comfortable, including soffit lighting, ceiling fans, an entertainment center, and more. Because these items are protected from the elements, it will be worry-free enjoyment.
TREX RainEscape products are affordably priced and backed by a 20-year warranty.
Trex Composite Decking Gallery
Our experience as a Trex composite deck builder spans a wide range of projects, from relaxing poolside decks to cozy, Southern-style wraparound porches. This knowledge allows us to expertly make use of the unique architecture presented by every home and business while making sure to incorporate your needs and dreams. Here's what it looks like when we put our expertise and creativity to work.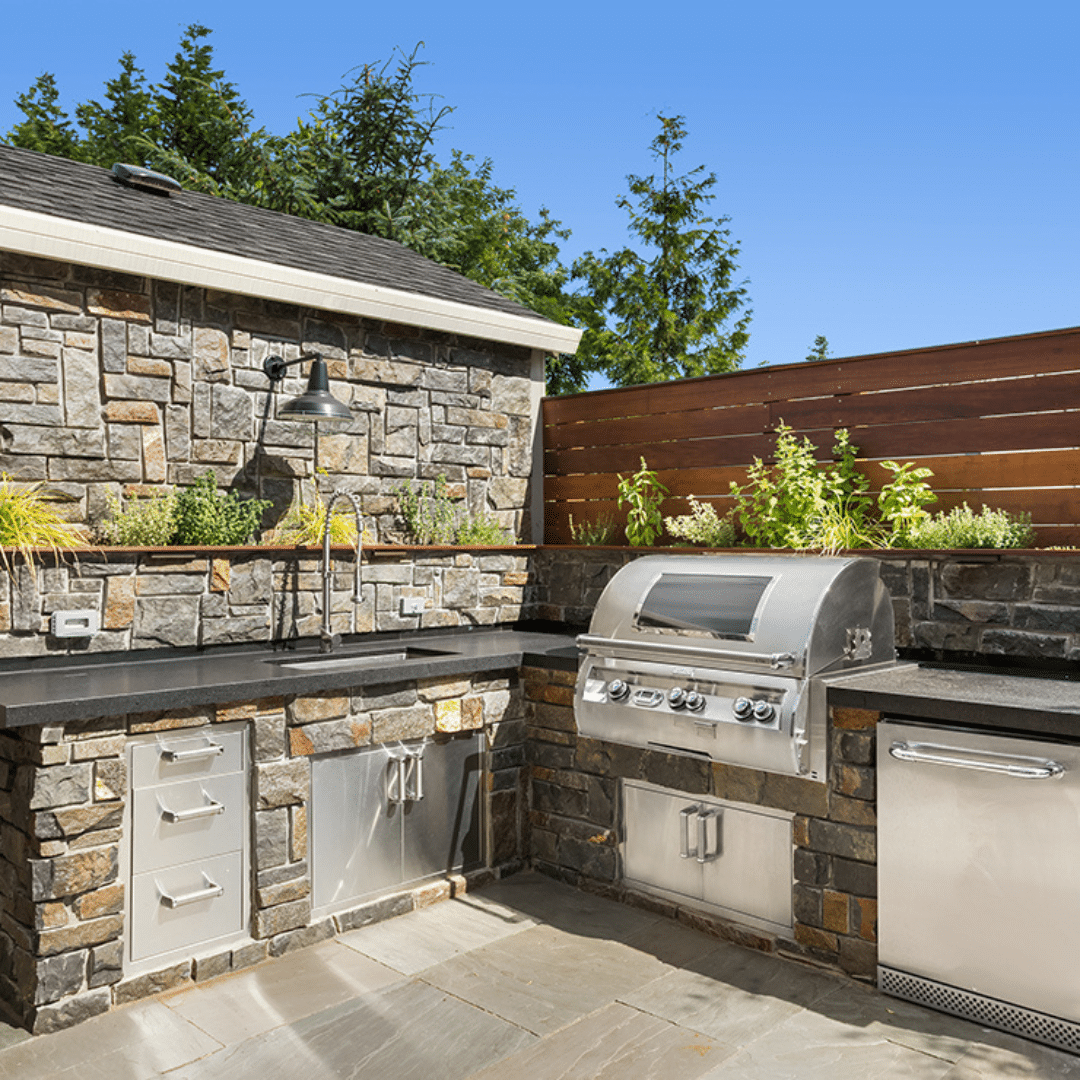 Thinking about covering your outdoor kitchen? Here's what you should keep in mind before covering your kitchen with structures like pergolas and pavilions.
Read More
We love what we do and you will too!
With your ideas and our expertise, we can build your dream deck design.