Outdoor Fire Pits & Fireplaces in Chicago's Suburbs
At Mitchell Construction, we think that a comfortable and inviting outdoor living space is essential for any home in Chicago's Suburbs. One of the best ways to create a cozy outdoor space is by incorporating a custom fire pit or fireplace. Discover why we often recommend fire features to our clients and the benefits they bring to your decks, patios, or sunrooms.
Don't Let The Cold Keep You Indoors!
Incorporating a fire feature will transform your backyard into a year-round oasis. Whether you want a place to gather with friends or simply want to extend the comfort of your outdoor living area well into the night, our fire features are the perfect solution.
Benefits of Fire Features:
Add Comfort to Your Experience:

There's nothing like the comfort of a warm flame on a chilly evening. Fire features ensure a comfortable experience at all times.

Perfect For Gatherings:

A fire pit or fireplace can serve as the ideal gathering place for family get-togethers or evenings with friends.

Add Value:

Our fire features are crafted with premium materials, ensuring durability and enhancing the overall value of your property.
Custom Outdoor Fire Pits in Chicago's Suburbs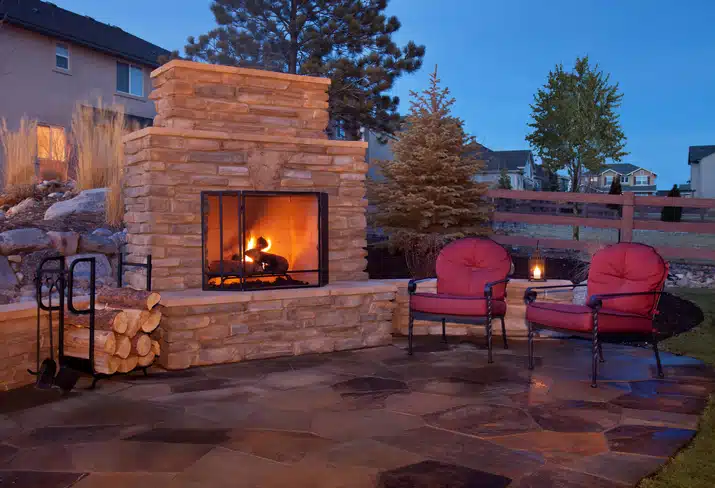 Fire pits, with their circular design and open flame, offer a more communal setup. They're excellent for open areas, allowing people to sit around in a circle and enjoy a campfire-like experience. 
Our outdoor fire pits are aesthetically pleasing, durable, and safe. You can choose from a variety of materials ranging from pavers, brick, stone, concrete, and more. We ensure each design matches the style of your outdoor space, creating a seamless and cohesive look.
Custom Outdoor Fireplaces in Chicago's Suburbs
Our custom fireplaces offer a slice of indoor comfort in the great outdoors. Fireplaces provide concentrated warmth, creating a more comfortable environment. They're excellent for smaller gatherings or cozy family times, serving as a focal point that directs your outdoor seating layout.
If your backyard space is limited, your outdoor living space is covered, or you're simply looking for a stronger source of heat, a fireplace can be an excellent choice.
Request Your Free Estimate Today!
Our experienced team has designed and installed custom fire pits and fireplaces since 1978 in Monee, IL. We understand the importance of creating a comfortable and inviting environment for you and your guests, and we are committed to bringing your vision to life.
Ready to transform your lifestyle? Get a free estimate or Contact us today!