As a family-owned deck company with over 40 years of experience, Mitchell Construction is dedicated to helping families in Chicago's Suburbs create their dream outdoor living spaces. It is with great excitement that we share the news of our latest accomplishment: being awarded the prestigious Stellar Service Award by Trex. Read on to learn more about the Stellar Service Award, how Mitchell Construction continues to meet this high standard, and why you should consider partnering with us for your decking needs.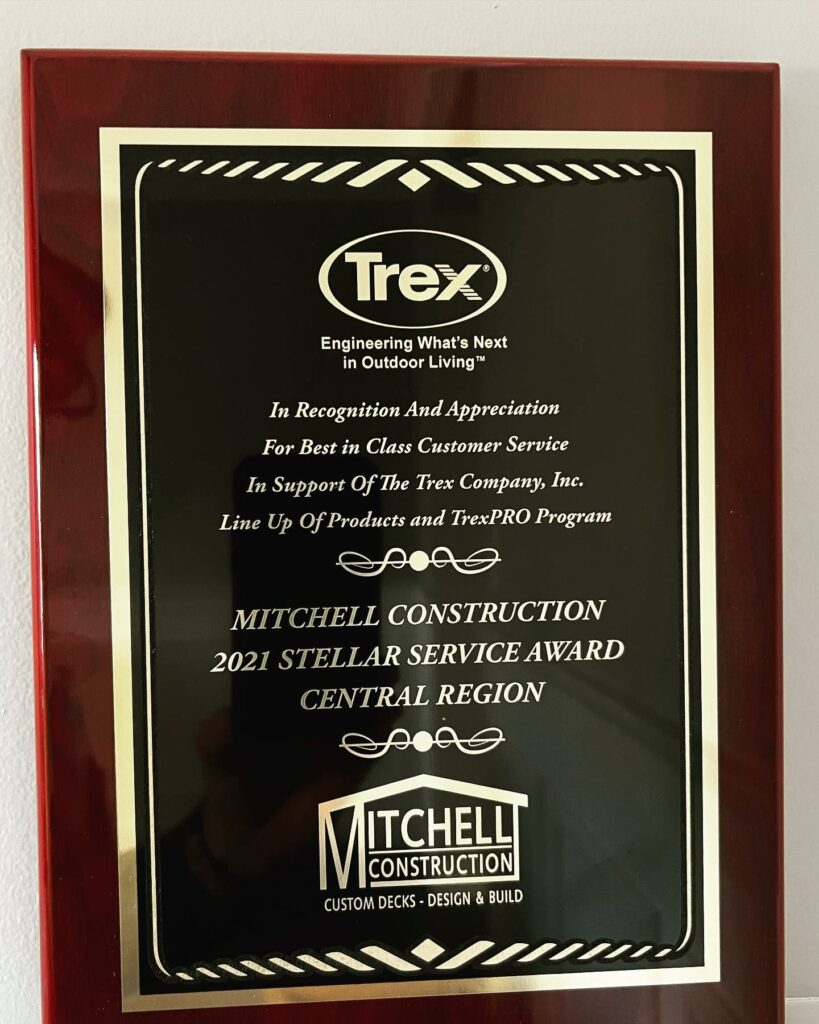 The Stellar Service Award By Trex

The Stellar Service Award is a recognition that holds great significance in the Trex community. Annually presented to one TrexPRO Platinum contractor from each of Trex's five sales regions across the United States, this prestigious award acknowledges and celebrates excellence in customer service, installation quality, and overall client satisfaction. 
To be eligible for the Stellar Service Award, a TrexPRO Platinum contractor must meet strict standards. First and foremost, they must be within the top 25% of contractors in their region in terms of Trex deck installations. Additionally, they must have the highest number of customer satisfaction surveys returned while maintaining a rating of at least 4.5 out of 5 stars.
Winning the Stellar Service Award speaks to the dedication and commitment that Mitchell Construction has to our clients. We take the time to ensure that our clients are completely satisfied with their decks and that their needs are met every step of the way. The Stellar Service Award is an honor that we take great pride in, as it recognizes the hard work that our talented team puts in to provide exceptional service and craftsmanship.
How We Provide A World-Class Construction Experience

Mitchell Construction is committed to using only the best materials, such as premium Trex decking products, to guarantee durability, functionality, and visual appeal. But our commitment to excellence goes beyond materials. Creating the perfect outdoor living space also demands an enjoyable, stress-free construction experience that is customized to your unique needs.
Our commitment to elevating the construction experience starts from the moment of initial contact when our team listens intently to your ideas, goals, and expectations. Then, we work closely with you throughout the planning and design process, providing expert guidance every step of the way. Our team takes the time to get to know you, so we can create a deck design that meets those needs.
We maintain open and honest communication with our clients, providing regular updates on the progress of your project and promptly addressing any questions or concerns. In addition, our project managers oversee the construction process to ensure your deck is completed on time and with minimal disruption to your daily life.
Our dedication to customer service shows throughout the installation process. Our skilled in-house carpenters are not only experienced in installing Trex products but also respectful, punctual, and dedicated to keeping your property clean and safe.
What's more, we take care of every step of your project, including permitting, design, and installation, to ensure that you can relax and not worry about the details. Once your deck is complete, our 10-year labor warranty and Trex's 25-year warranty provide you with the peace of mind that your investment is well protected.Mitchell Construction goes above and beyond to deliver an unmatched construction experience, encompassing outstanding customer service, impeccable communication, and a dedication to transforming your dreams into reality. With our track record of more than four decades and the recent Stellar Service Award in 2023, you can trust Mitchell Construction to create an exceptional outdoor living space that your family will cherish for years to come.

Clients Share Their Mitchell Construction Success Stories
Customer satisfaction has always been at the forefront of our operations, and our stellar rating of 4.7 out of 5 stars is a testament to this commitment. Many of our clients speak highly of our professionalism, attention to detail, and impeccable communication throughout the construction process. Their positive feedback keeps us motivated to continue providing a world-class construction experience.
For instance, Jenna shared her experience by saying,

"Mike and Mitchell Construction are absolutely amazing! Mike was so patient with us and drew up many options until we found one that we loved. The crew was kind, professional, and came in the freezing cold to finish the job. We now have a deck better than I ever expected it could be, and our family has been able to enjoy the backyard like never before. This was a big investment but definitely worth every penny!"

Another proud homeowner, Allison, described her experience as follows:

"I spoke to 3 different deck companies & Mike with Mitchell Construction was the most thorough from the beginning. He answered my millions of questions, had great follow-up, estimate was competitive & created a beautiful design to fit around a pool. From demo day to building, they took such care in everything they did. My county inspector sang their praises, saying I hired the best. I, in fact, did. The end result is absolutely beautiful & far beyond what I imagined. I live out here now. I'm so grateful for their hard work & attention to detail. I can't believe this is my house!!"
These examples are just a glimpse into the countless positive experiences that our clients have had with Mitchell Construction. Success stories like these drive us to excel and achieve even greater heights. We are proud to have earned the Stellar Service Award and strive to continue providing every one of our clients with an exceptional construction experience.
Entrust Your Deck Project To Mitchell Construction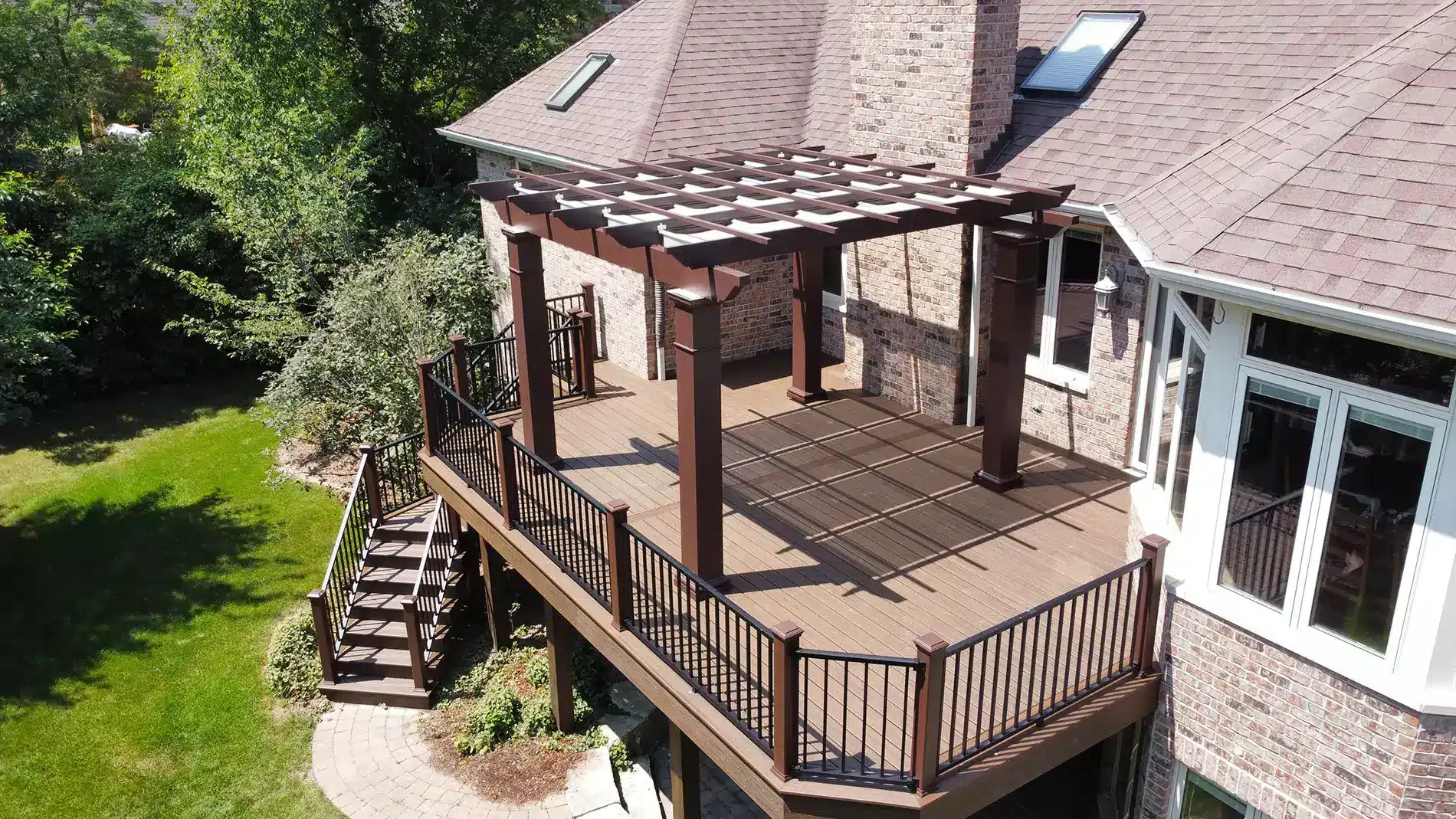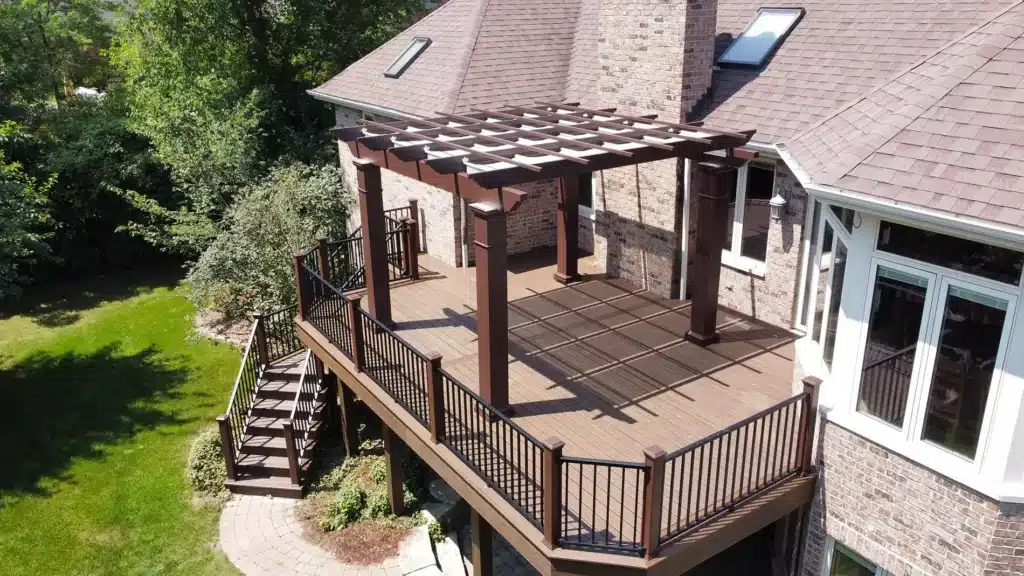 Mitchell Construction's recent Stellar Service Award is the result of our dedication to providing exceptional design and construction experiences, top-quality materials, and outstanding craftsmanship. We invite you to consider us for your decking needs, knowing that our TrexPro Platinum status and decades-long track record are evidence of our expertise and commitment to excellence. 
By choosing Mitchell Construction, you can be certain that your dream outdoor living space will come to life with the professionalism, expertise, and client-focused care that sets us apart. Call us today to embark on the journey of creating your perfect outdoor retreat.