Welcome to Mitchell Construction, the leading pool deck contractor in the Chicago suburbs. With years of experience and a dedicated team of skilled professionals, we pride ourselves on our ability to create stunning, functional, and well-designed pool decks tailored to your unique needs. Trust Mitchell Construction to turn your backyard into a luxurious oasis that will provide endless enjoyment for you and your family.
Enjoy Summer Like Never Before With A Composite Pool Deck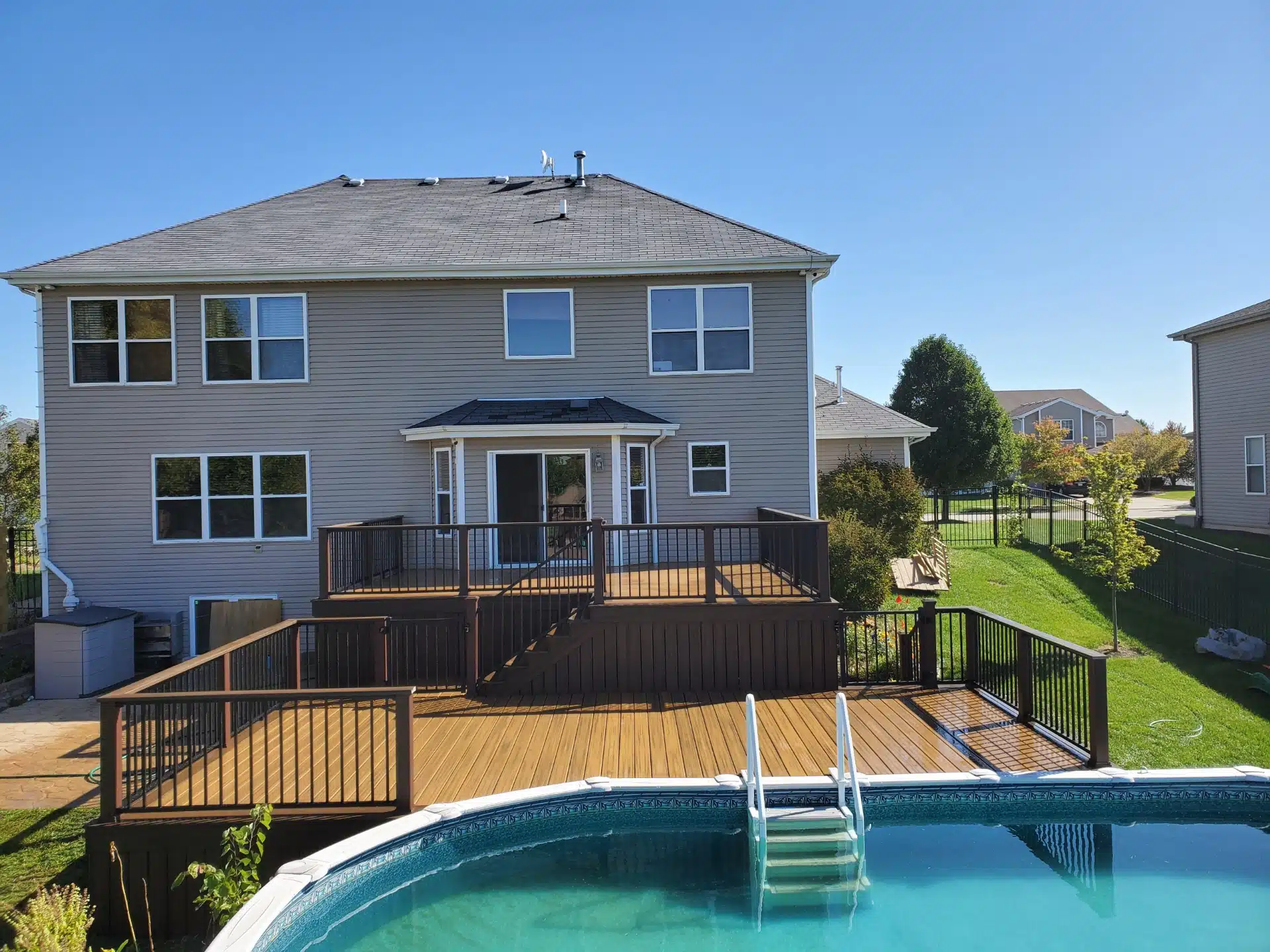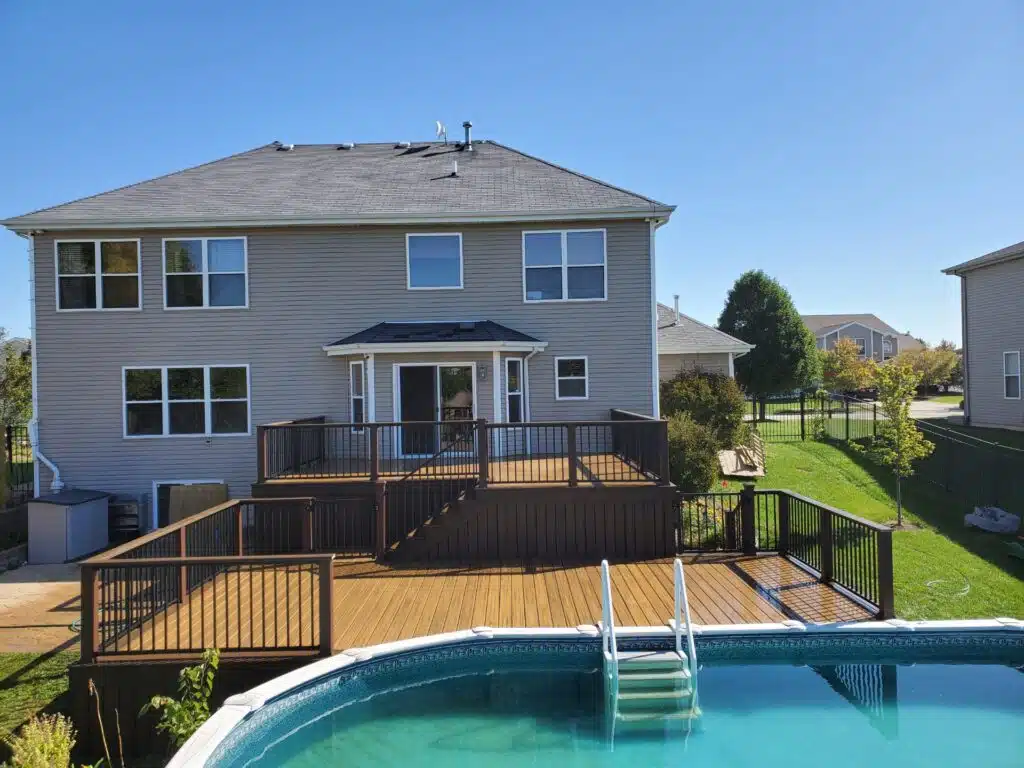 Investing in a pool deck not only adds visual appeal to your backyard but also offers a multitude of benefits. Here are some reasons to consider a pool deck, as well as the advantages of choosing a composite material:
Expanded Outdoor Living and Entertainment Space: A pool deck extends your outdoor living area, providing additional space for relaxing, sunbathing, and entertaining guests. It creates a seamless transition between your home and your pool, encouraging more outdoor activities and enjoyment.
Enhanced Safety and Accessibility:

A well-designed pool deck ensures convenient access and offers a secure and slip-resistant surface surrounding your pool, minimizing the likelihood of accidents and injuries. 

Resistance to Water, Rot, and Fading:

Composite materials are designed to resist water damage, rot, and fading from UV exposure. This makes them ideal for pool decks, where constant exposure to water and sunlight can quickly deteriorate wood.

Low Maintenance and Durability: Composite decking is known for its low maintenance requirements, as it does not need regular staining or sealing. It is also resistant to warping and splintering, ensuring your deck stays in top condition for years to come.
Variety of Colors and Styles:

Composite decking comes in a wide range of colors and styles, allowing you to customize the look of your pool deck to perfectly complement your home's exterior.

Increased Property Value:

A well-built composite pool deck not only looks great but also adds value to your property. Homebuyers appreciate the low maintenance and durability of composite pool decking, making it a sought-after feature in today's market.
Customize Your Pool Deck With Exciting Features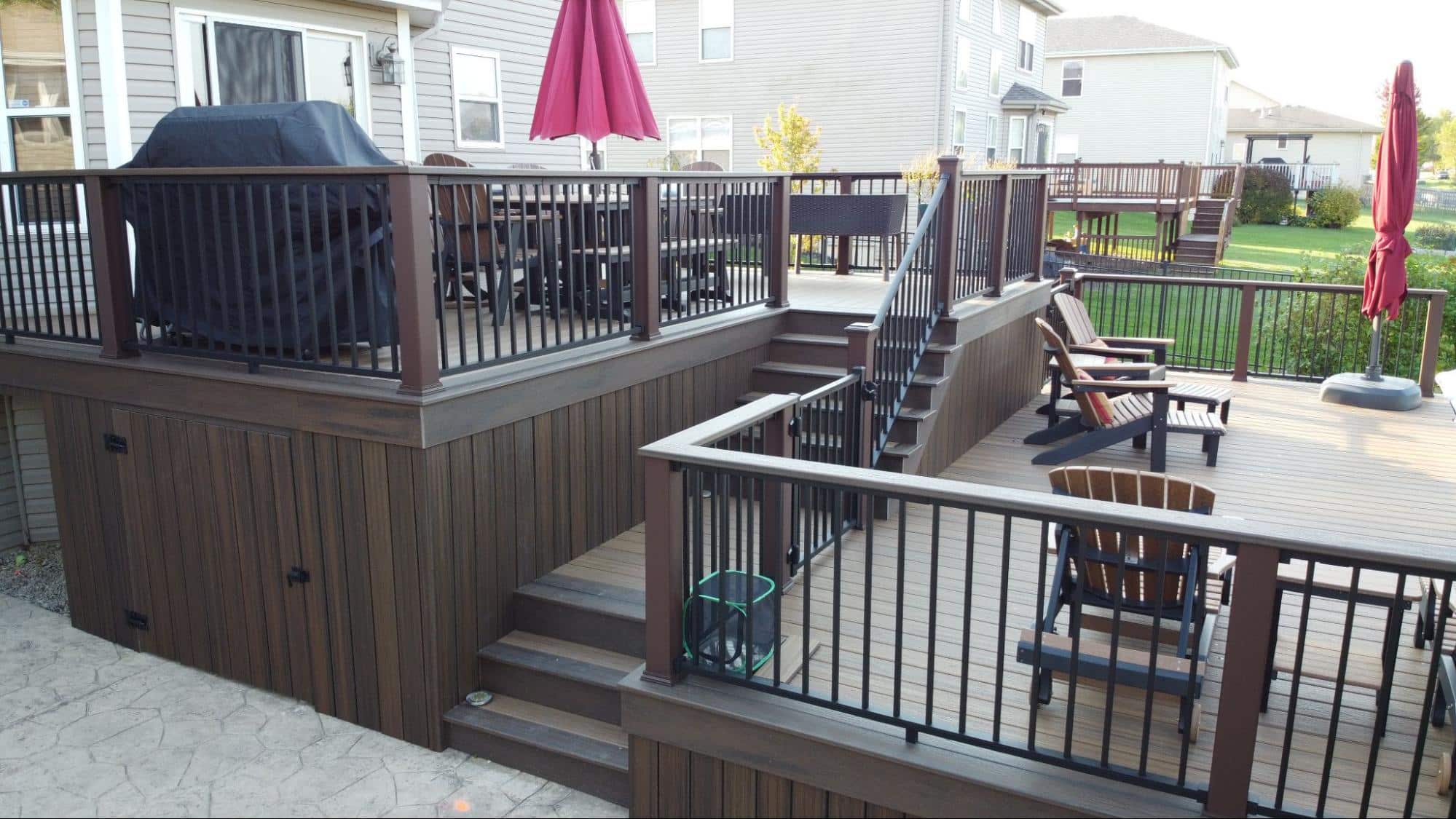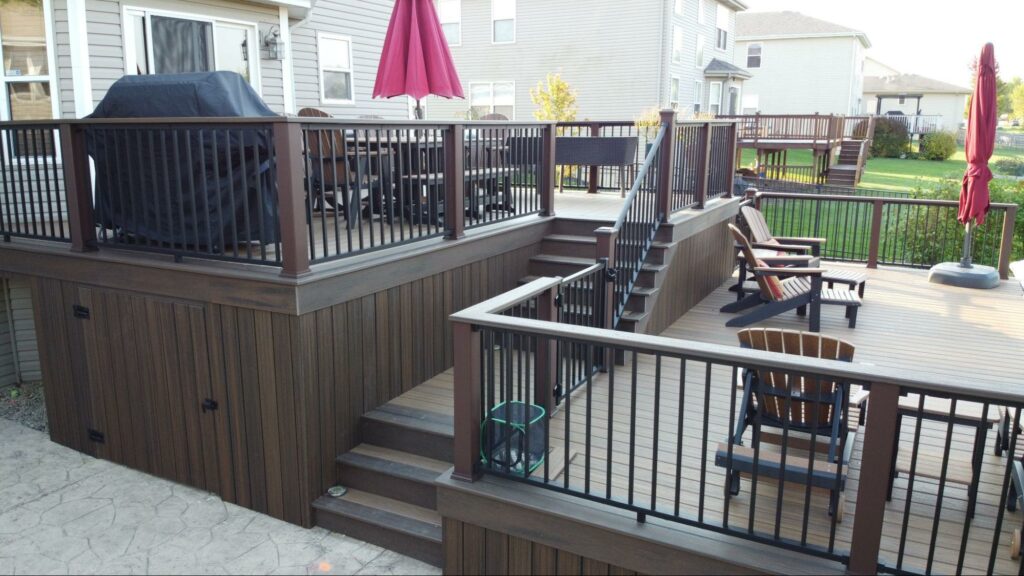 Our team of experts works closely with you to design a pool deck that includes the elements that matter most to you. Here are some popular features that can be incorporated into your pool deck project:
Gates:

Enhance the safety and security of your pool area with the addition of gates. We can design and install custom gates that provide controlled access to your pool, preventing unsupervised children or pets from entering the pool area.

Storage Solutions:

Keep your outdoor space organized and clutter-free with our innovative storage solutions. We can create built-in storage compartments and benches with hidden storage that blend seamlessly with your pool deck design.

Pergolas & Shade Structures:

Add a touch of sophistication and comfort to your pool deck with a pergola or shade structure. Choose from traditional wood or modern motorized models to create a shaded area for relaxation.

Outdoor Lighting:

Enhance your pool deck's ambiance and safety with strategically placed outdoor lighting. Illuminate paths, steps, and seating areas to create a welcoming outdoor space that can be enjoyed both day and night.

Outdoor Kitchens and Bar Areas:

Elevate your entertainment game with a custom outdoor kitchen or bar area. These spaces make it easy to host pool parties and cookouts, turning your backyard into the ultimate destination for friends and family.

Under-Deck Drainage Systems: Utilize the space under your pool deck with an under-deck drainage system that keeps the area dry and usable. This enables you to store items such as a lawnmower or pool toys while also prolonging the lifespan of your deck structure.
Revive Your Old Deck With Pool Deck Resurfacing
Over time, even the most durable and well-built pool decks can become worn out, cracked, or faded due to constant exposure to the elements. Fortunately, pool deck resurfacing is a cost-effective solution that can revive your old and worn-out pool deck.
Pool deck resurfacing is often necessary for wooden decks that have seen years of use and exposure to the elements. It involves replacing the existing top layer of wood decking with high-quality composite materials, giving your space an entirely new look.
One of the main benefits of pool deck resurfacing is that it is a cost-effective solution, as it avoids the need for a complete deck replacement. It also addresses structural issues and safety concerns that may have developed over time while providing an opportunity to add missing features.
A Local Pool Deck Builder Committed To Your Satisfaction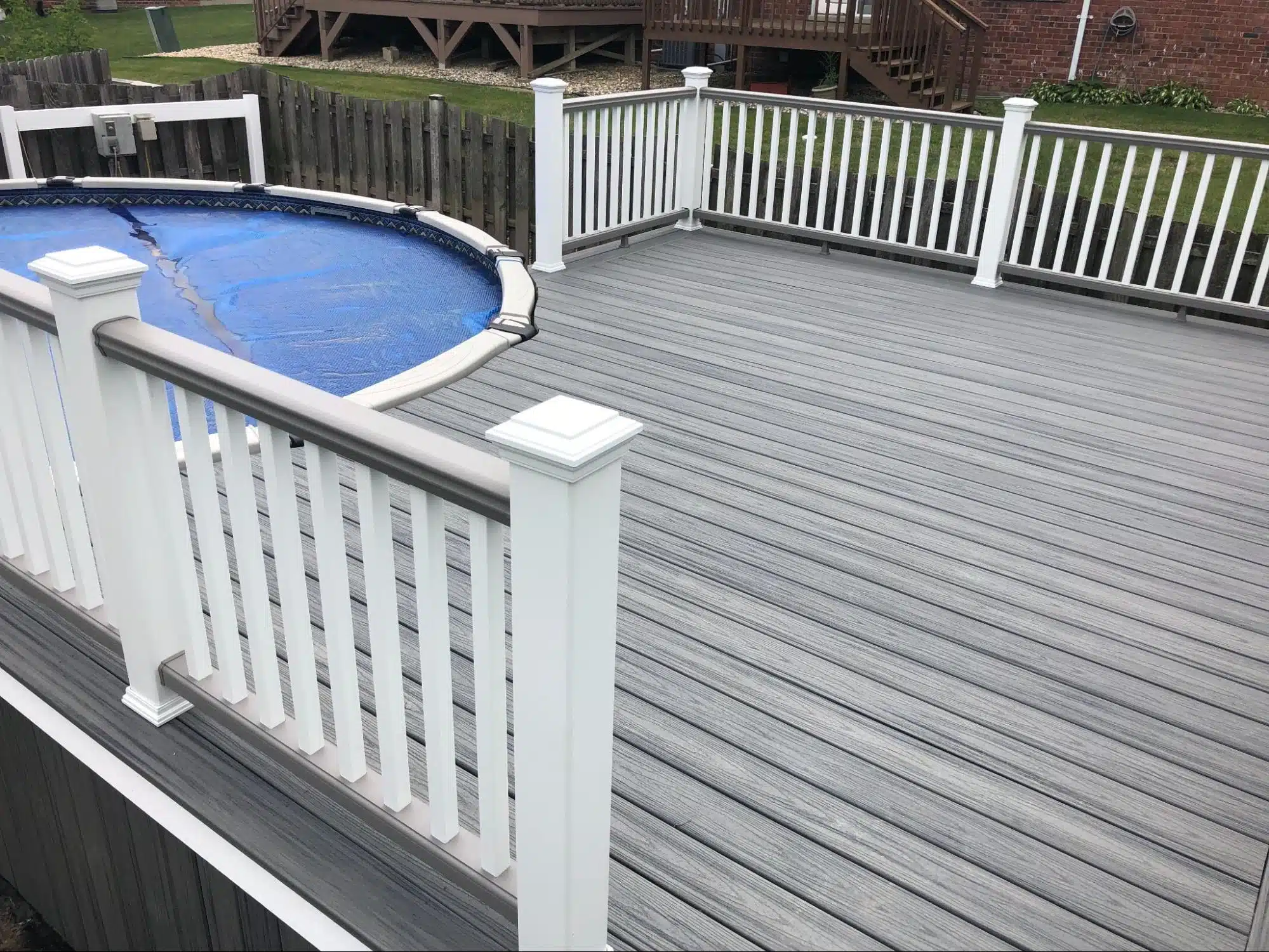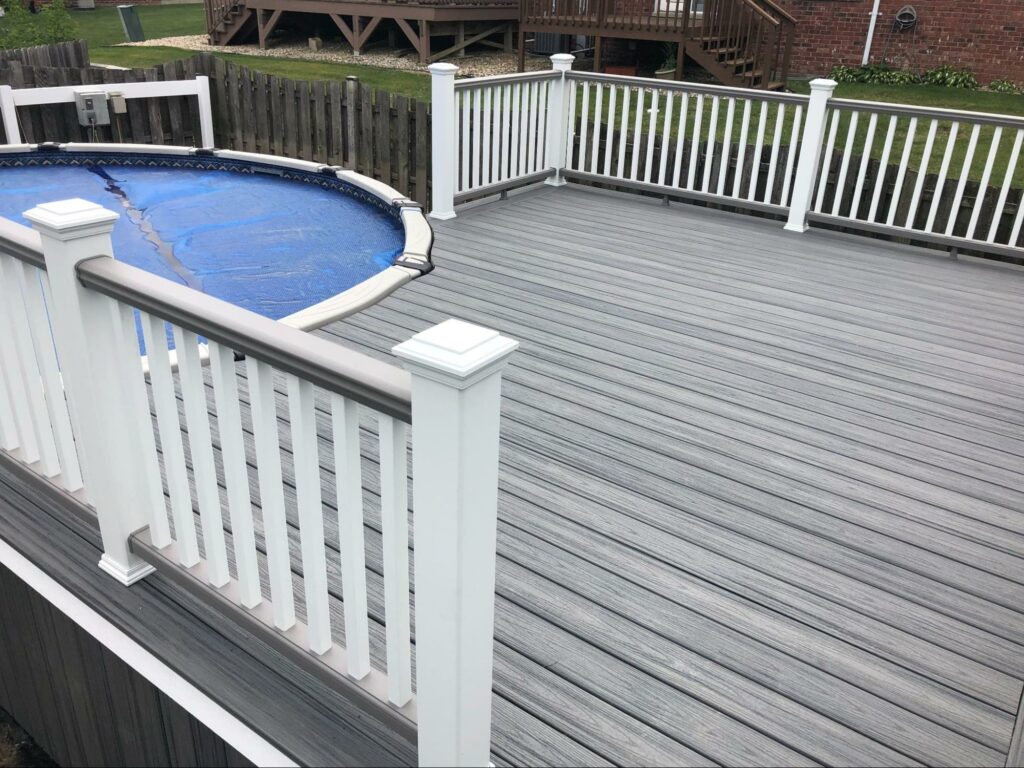 At Mitchell Construction, we pride ourselves on our expertise in building high-quality composite pool decks that offer the perfect combination of aesthetics, durability, and low maintenance. Our team stays up-to-date with the latest industry trends and products, enabling us to provide customized solutions that meet your unique needs.
As a locally owned and operated company, we understand the unique needs and challenges of homeowners in the Chicago suburbs. Our knowledge of local building codes, climate, and materials ensures that your pool deck will be designed and built to withstand the test of time.
Our commitment to your satisfaction is evident in the glowing testimonials and success stories we've received.  We have successfully completed countless pool deck projects, always delivering exceptional quality and exceeding expectations. We invite you to explore our projects to see examples of our work and read about the experiences of our satisfied clients.
Your Perfect Pool Deck Starts Here: Get Your Free Estimate Now!
Ready to transform your backyard into a stunning outdoor oasis with a beautiful and functional pool deck? Mitchell Construction is here to help. To request a free estimate, simply give us a call or fill out the form on our website. We look forward to hearing from you and helping you create the pool deck of your dreams!