If you've been searching for a way to take your outdoor space from mundane to stunning, it's time to think about adding some beautiful lighting. Outdoor lighting can turn an uninviting backyard into an atmosphere of warmth and cheer. Entertaining guests and creating memories with loved ones is a breeze when your outdoor living space is illuminated for the occasion. Here are some outdoor lighting ideas to brighten up your deck and outdoor space:
#1 Landscape Lighting Around A Pool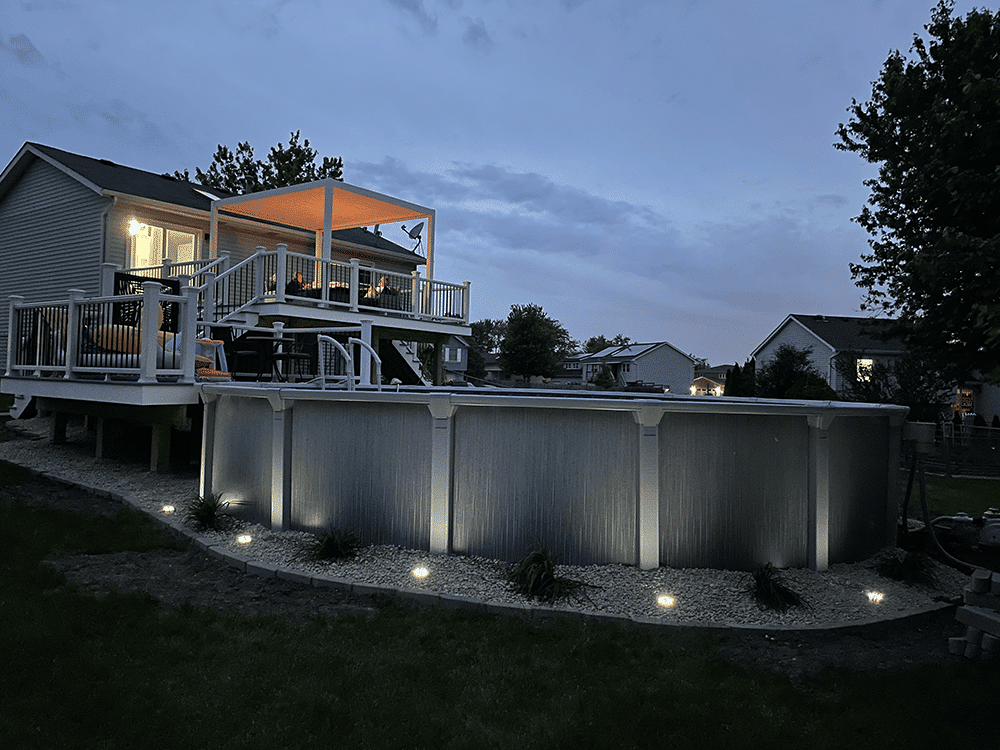 A pool serves as a beautiful focal point. At night, the shimmering water of a pool, like a mirror, reflects the light of the stars above. The lights twinkle like a thousand fireflies, inviting you to linger a little longer and appreciate the beauty of the night.
Adding landscape lighting around your pool will cast a warm and inviting glow, creating the perfect atmosphere for a romantic evening or a festive gathering of friends. Then, when night falls, you'll have a breathtaking display of light and color that will make your backyard come alive.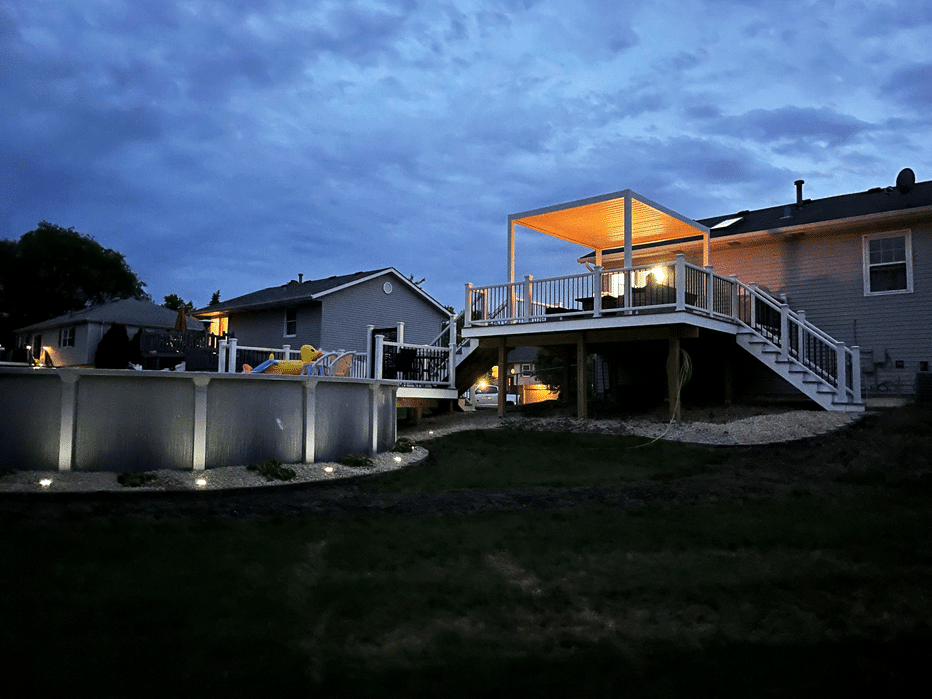 #2 Louvered Pergola With LED Lighting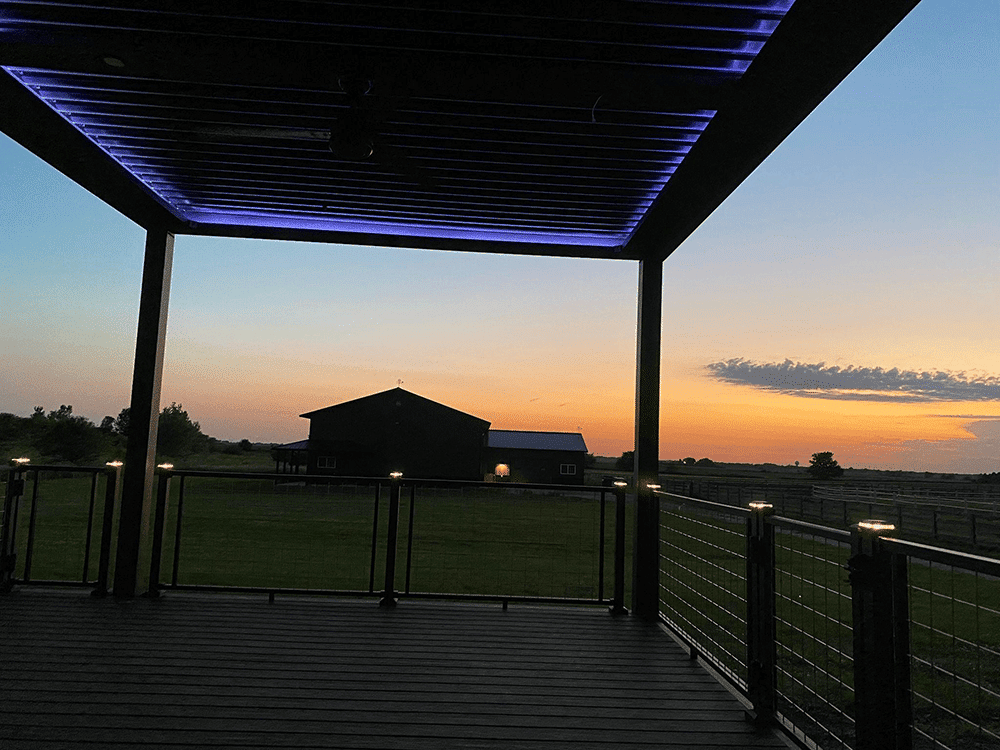 A louvered pergola makes a great outdoor living space. Add some LED lighting to the mix, and you've got a luxurious and inviting atmosphere for entertaining and relaxing.
The LED lights will provide a soft and subtle glow, allowing you to enjoy your outdoor space in style when night rolls around. LED lights are also energy-efficient and long-lasting, so you won't have to worry about replacing them anytime soon.
The photos feature a StruXure pergola X with integrated LED lighting. The louvered pergola opens and closes with a remote control, giving you complete control of your outdoor space.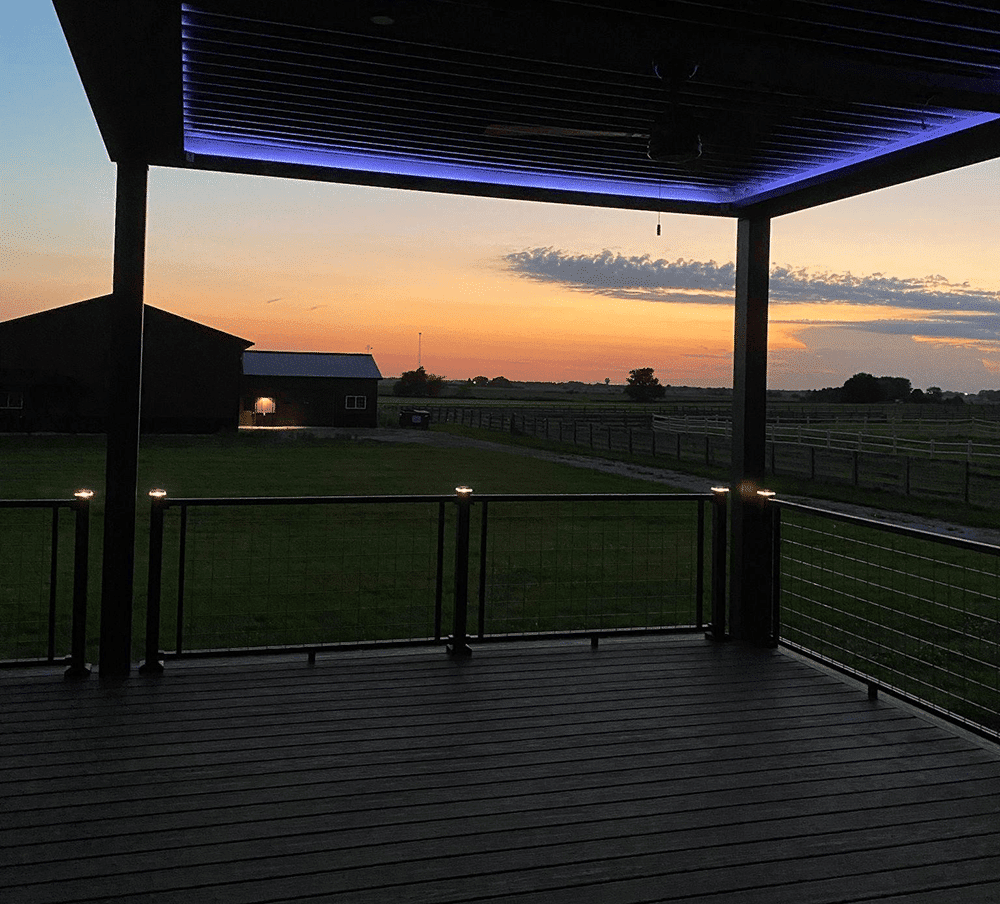 #3 Deck Step Lights For A Dramatic Effect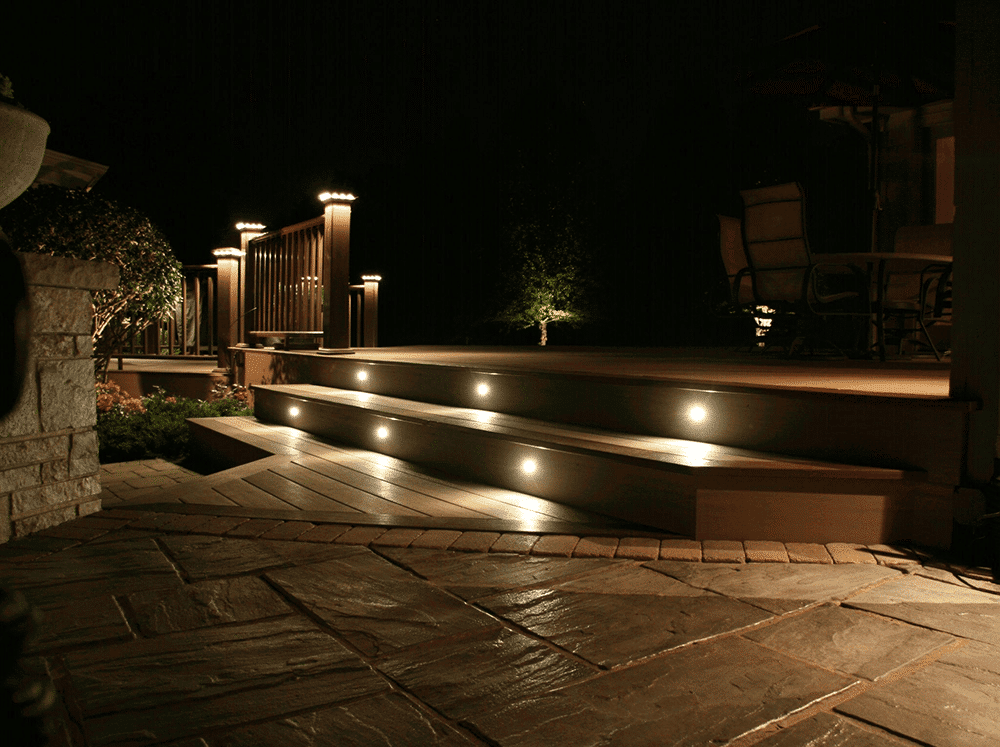 Deck step lights can add an enchanting effect to your outdoor living space. You can use them to highlight architectural features or to create an inviting atmosphere. Not only do step lights give your outdoor living space a sense of sophistication, but they will also make it safer for walking around at night.
Deck step lights have a low-profile design, so they won't take away from the aesthetics of your outdoor space during the daytime.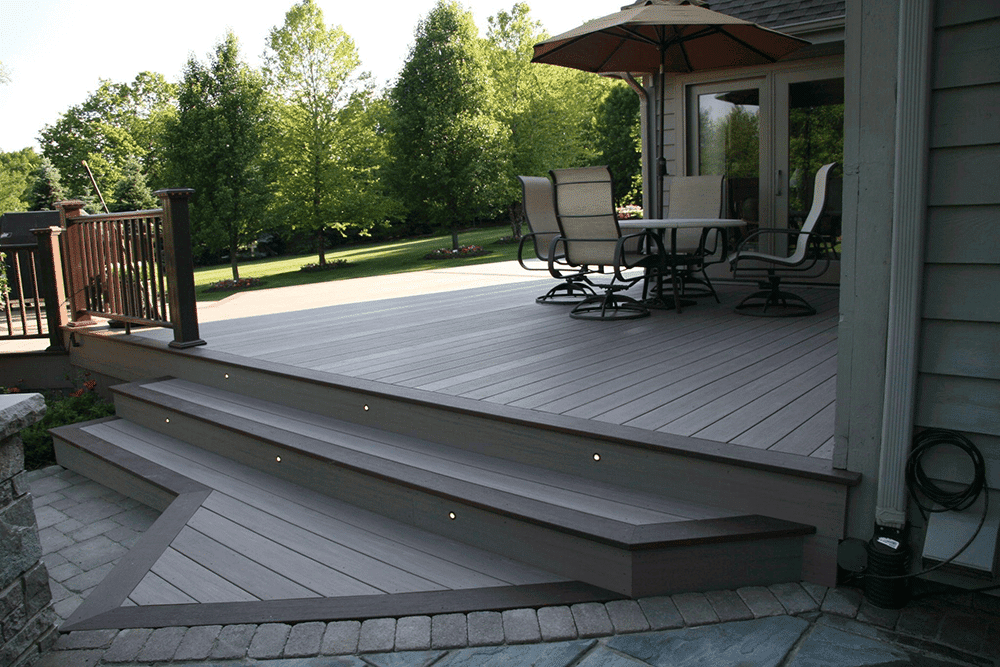 #4 Step Lights + Post Cap Lights = Majestic Entrance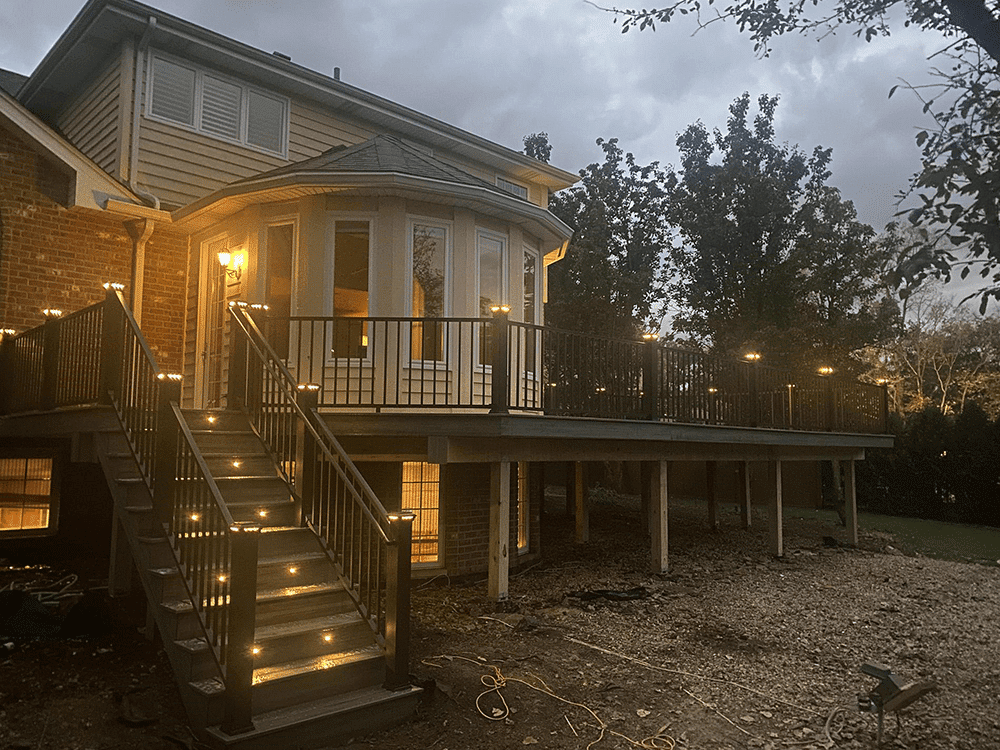 Post-cap lights paired with step lights can create a majestic entrance to your deck. The post-cap lights will provide a soft and welcoming glow at night, making it easier to see the handrail. The step lights are just as integral to the overall aesthetic, creating a stunning effect as you ascend the stairs.
Not only does this combination scream luxury, but it will also help keep you and your guests safe when walking up the stairs.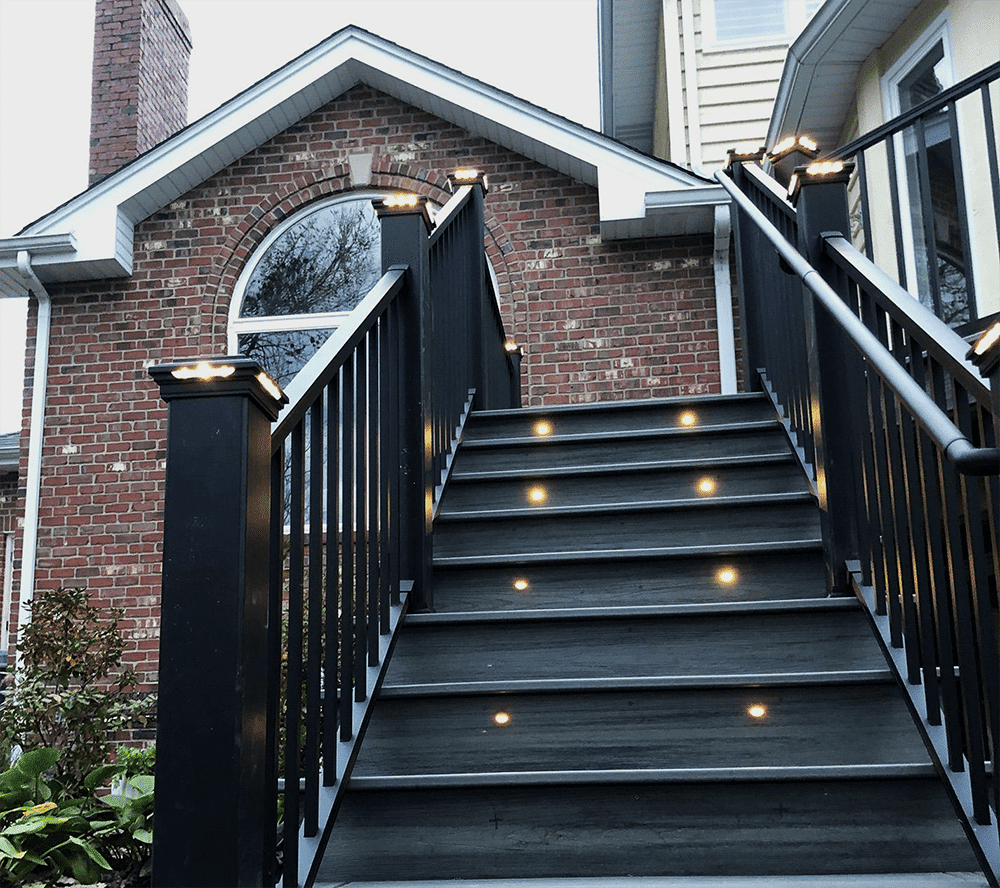 #5 Umbrella With Integrated Lighting
If you're looking for a way to take your outdoor seating area up a notch, consider adding an umbrella with integrated lighting. It may seem like a small detail, but the details make a big difference in the end. For a cohesive visual look, it's best if the post cap lights on your deck and the lighting from your umbrella match in tone and color.
As you can see in the photo, the furniture style matches the umbrella, creating a coherent and attractive atmosphere.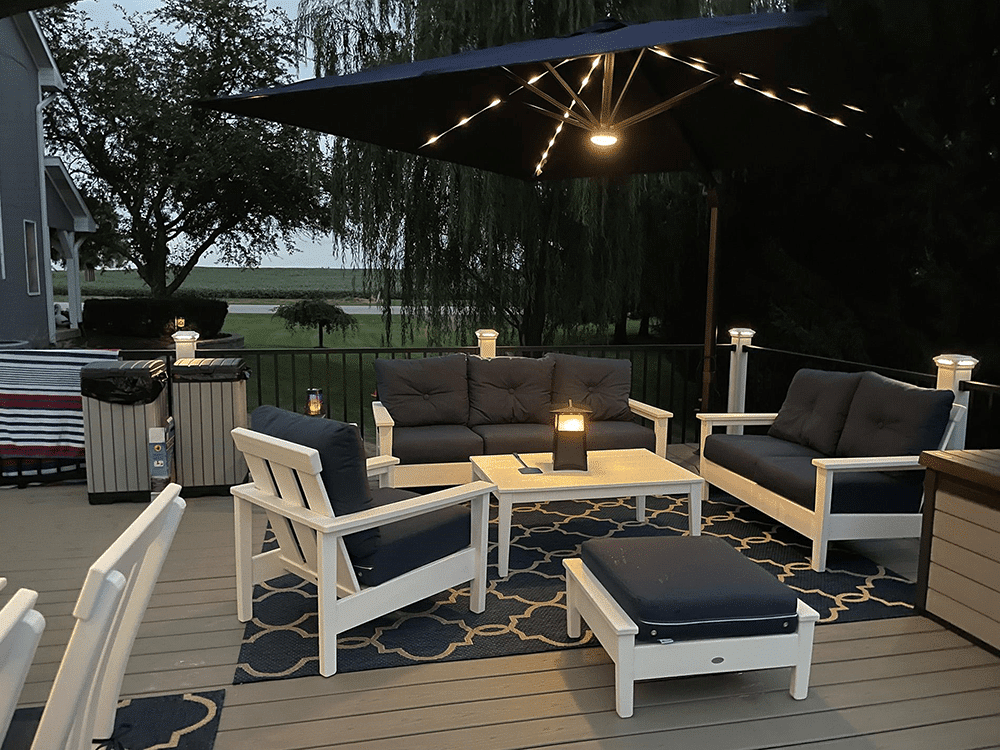 Conclusion
Adding deck or landscape lighting is a great way to take your outdoor living space to the next level. We hope these ideas have inspired you to transform your backyard into an inviting and beautiful place to create memories with loved ones.
Make sure your contractor understands the importance and role of lighting when it comes to deck design. Done right, it will make a big difference in the overall look and feel of your outdoor space!
Are you looking to add a deck to your home? Discover the six problems composite decking solves better than wood.